The fat of the land 肥胖之地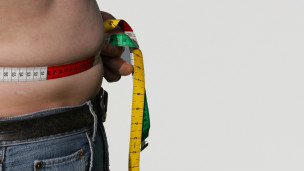 Vocabulary: obesity 词汇: 肥胖
I'm glad I'm not alone. The number of people in the world who are obese or overweight has topped 2.1 billion, up from 875 million in 1980, according to figures published in a medical journal The Lancet.
I'm a fat Londoner – one of many fat Londoners, it seems: this 188-country study placed the UK near the top of its 'obesity list'. And the study placed the US and China at the top of the global list, with the highest rates.
Yes, China is on the list, I'm afraid. They might be talking about you, too.
Professor Hermann Toplak, at the University of Graz, in Austria, said: "Over the past decades, the modernisation of our world, with all the technology around us, has led to physical
inactivity on all levels."
I don't blame anybody but myself for my love handles. I have a sweet tooth and I give in to temptation easily. Obesity is all about calorie intake and exercise.
The British National Institute for Health and Care said even a 3% weight loss – probably just a few kilos – would cut blood pressure and reduce the risk of type-2 diabetes and some cancers.
I must say that this latest study made me think hard about my bad habits. It's said to be the most comprehensive to date and included researchers across the world, led by the Institute for Health Metrics and Evaluation in Washington.
I might be included in their statistics this time, but not anymore. I'm giving up fast food – for good!
Experts say the best way to keep the weight off is to try planning menus for the entire week and eating regular low-calorie meals and snacks to stop hunger pangs.
I'll try to eat moderate amounts of protein and opt for good carbohydrates, such as brown rice.
And what about exercise? Well, feeling a bit sweaty and breathless in the gym is OK if it makes me lose weight and feel healthier. I won't be on that 'fat list' much longer!