Music in your brain 脑海里的旋律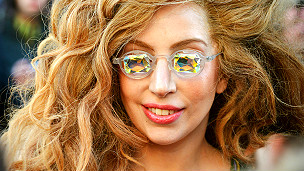 Lady Gaga's Just Dance is among the top five in the list
Vocabulary: Music 词汇:音乐
It's party season and many of us will be dancing , eating and drinking too much. After a night of singing to catchy tunes from the charts, many of us will wake up with the music playing over and over in our heads.
Some songs will never go away. A survey in Britain suggests that the Spice Girls' debut hit, Wannabe, is the catchiest UK hit single.
The data from more than 12,000 participants was collected via an online interactive game called Hooked on Music, which is part of a wider experiment with the objective of finding out what makes music memorable.
Participants were able to recognise the song Wannabe in 2.3 seconds. The average for other popular hits was five seconds.
This particular song spent seven weeks at number one in 1996. Since then, it's found its way into people's memories.
The Hooked on Music idea came from Ashley Burgoyne from the University of Amsterdam in the Netherlands. He said: "You may only hear something a couple of times yet 10 years later you immediately realise that you've heard it before. Yet other songs, even if you've heard them a lot, do not have this effect."
And what's the secret of a catchy tune? Is it the lyrics? The chorus? Dr Burgoyne and his team want to identify whether the most memorable pieces of music shared particular characteristics. It'll allow them to understand how the musical memory works and help research on dementia. He said: "There's already been some research that shows that if you can find the right piece of music, something that had a very strong meaning, playing that piece of music can be very therapeutic. The challenge is figuring out what the best piece of music is."
The other most recognisable tunes in Dr Burgoyne's study are Lou Bega's Mambo No 5, Survivor's Eye of the Tiger, Lady Gaga's Just Dance and ABBA's SOS.
Which one do you sing along to?