Sink or swim 孤注一掷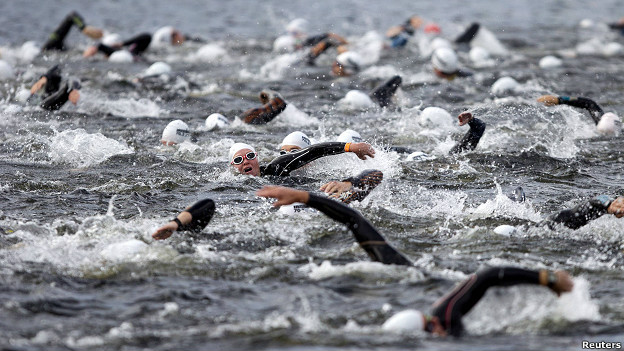 Sink or swim 孤注一掷
如果使用 sink or swim 这个短语,你的意思就是在一种特定情况下, 孤注一掷,成败在此一举。
今日小常识


The triathlon pushes competitors to the limits in three different sports: swimming, cycling and running. The Olympic distance triathlon consists of 1500m of swimming, 40km of cycling and 10km of running; all completed consecutively. For the women, this will take around two hours; the men will be about ten minutes faster. (source: British Olympic team website)



包括游泳,骑自行车和跑步在内的长三项全能运动把竞争者推向了身体的极限。这一长距离的奥林匹克铁人三项包括1500米游泳、40公里的自行车和10公里的长跑,全部要连续完成。女子比赛大约需要两个小时,男子赛一般要快十分钟。(资料来源:英国奥林匹克队网页)
例句
Mary has decided to open a clothes shop in spite of the current economic recession. Let's see if she will sink or swim.
I've been accepted by one of the best universities in Britain. It will be a tough year and I know my family is wondering if I'll sink or swim.
请注意
如果说 to have a sinking feeling 那就是一个人对什么事情有一种不祥的预感。
The main player in the team has just got a red card! I've a sinking feeling that my team is going to lose this match.