To sail close to the wind 顶风而行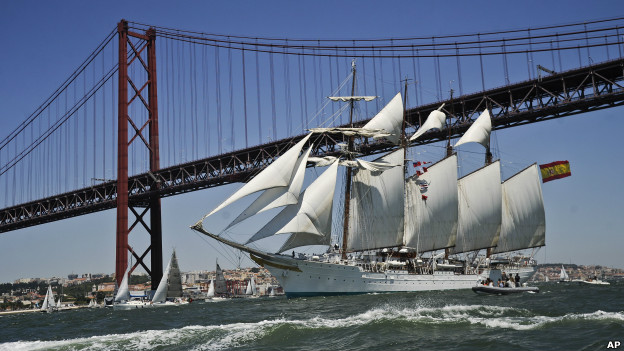 今日短语
如果形容某人 is sailing close to the wind 意思就是某人做冒险的事或斗胆做几乎是违法的事。
今日小常识
A tall ship is a large traditionally-rigged sailing vessel. Every year a Tall Ships race takes place in seas around Europe consisting of two racing legs of several hundred nautical miles. More than half of the crew of each ship participating in the races must consist of young people. This year's race takes in Portugal, Spain, France and Ireland.
所谓高船是指传统的带有桅杆的帆船。欧洲每年举行一次高船比赛,比赛包括两个阶段,航程共几百海里。参赛的船队必须保证一半以上的海员是年轻人。今年的比赛将在葡萄牙、西班牙、法国和爱尔兰举行。
例句
John's business practices were sailing close to the wind. He was very close to having the company shut down.
Susan's comments were sailing close to the wind so we had to ask her to tone them down.
请注意
另一个短语是 to take the wind out of (somebody's) sails. 意思是杀杀某人的嚣张气焰或挑战某人盛气凌人的态度。
Example: I was ready for an argument with my boyfriend but then he bought me some flowers and it took the wind out of my sails.