BOCOG holds 67th EB session
[ 2006-06-13 10:50 ]
6月8日,北京奥组委第67次执委会议在京举行举行。会议由中共中央政治局委员、北京市委书记、北京奥组委主席刘淇主持,国务委员、北京奥组委第一副主席陈至立出席了会议。会议听取了实践科技奥运工作的汇报。会议指出,科技奥运实践取得了重要进展。要进一步提高对实践科技奥运理念重要意义的认识。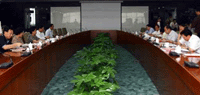 Scene of the meeting
The Beijing Organizing Committee for the Games of the XXIX Olympiad (BOCOG) convened its 67th Executive Board session here on Thursday.
High-Tech Olympics, one of the three concepts of the 2008 Games, was highlighted at the meeting which debriefed a report on the practice of the concept.
The concept serves as a key guarantee for a high-level Olympics with distinguishing features and an important pillar of carrying out the Green Olympics and People's Olympics, the other two Olympic concepts.
According to the meeting, the organizers of the Olympic Games will adopt a scientific view in an effort to integrate scientific resources to meet the needs of the impending Olympics. Along with the Olympics comes the opportunity for scientific innovation and the spread of scientific knowledge among the general public. Through the High-Tech Olympics, the Games will become a platform to enhance scientific and industrial development and bring benefit to the society.
Noting that major progress in High-Tech Olympics has been achieved, the meeting called for increasing awareness of the importance of the High-Tech Olympics concept. In the process of building an innovative nation and an innovative city, people need take the opportunity provided by the Olympic Games to increase the independent innovative capability with an aim to create a series of intellectual properties.
The meeting encouraged the use of high and new technologies in the construction of Olympic venues, security, information service, opening and closing ceremonies, ticketing, environmental protection and other areas.
The meeting also urged new system and measures to support middle- and small-sized enterprises in their innovation activities, mobilize in maximum their positive factors, encourage them to put their technical achievements into Olympic projects.
The meeting stressed the need to strengthen publicity of High-Tech Olympics, especially featuring its concept and connotation, so that a favorable condition for High-Tech Olympics can be created.
BOCOG President Liu Qi, who is also member of the Political Bureau of the Central Committee of the Communist Party of China (CPC) and secretary of the Beijing Municipal CPC Committee, presided over the meeting. State Councilor and BOCOG First Vice-President Chen Zhili attended the meeting.



Vocabulary :

Executive Board Session :执委会

debrief:听取汇报;听取报告

(来源:BOCOG 英语点津姗姗编辑)