Zheng Jie crowns in Stockholm
[ 2006-08-14 14:42 ]
| | |
| --- | --- |
| 中国女网又给大家带来了好消息。在总奖金额为14.5万美金的WTA四级赛斯德哥尔摩公开赛中,3号种子中国的郑洁爆冷击败了头号种子米斯金娜,捧起职业生涯第三个女单冠军头衔,前两个冠军分别是在2005年霍巴特站和2006年埃斯托丽尔站上夺得的。 | |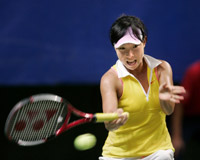 China's Zheng Jie returns a shot to Russia's Anastasia Myskina in the finals of the Stockholm Open [reuter]
Zheng Jie of China has ousted Anastasia Myskina of Russia in the women's Final of Nordea Nordic Light Open, 6-4, 6-1.

The match started outdoors, but after just two games the rain got too intense. Instead the match was moved to the indoor facility at the Royal Tennis Hall. A big part of the crowd from Stockholms Stadium walked the one-mile march to the new arena to watch the game.
Zheng kept playing the way she had during the week and seemed very confident on her game. The 23-year old Chinese was consistent and made Myskina run all over the court. The title was Zheng's third of her career and the second this year.
The victory has made Zheng the third player this year to win both singles and doubles titles at a WTA Tour event, after Anna-Lena Groenefeld did so in Acapulco and Shahar Peer achieved the feat in Prague. Zheng Jie has done this once before, at Hobart last year, capturing the doubles title with Yan Zi.
However, along with compatriot Yan Zi, Zheng lost the Doubles Final against Jarmila Gajdosova and Eva Birnerova. The Chinese duo won the first set easily, 6-0, but then the czech-slovakian couple started to play dazzling. The following sets ended 6-4, 6-2 to Birnerova and Gajdosova.
(Agencies)
Vocabulary:
oust: 驱逐;撵走,此处引申为"击败、战胜"

feat: 功绩;壮举

(英语点津陈蓓编辑)