Modern Audrey Hepburn——Natalie Portman
[ 2006-10-08 17:08 ]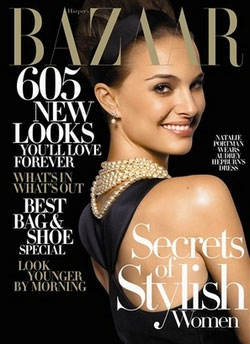 Audrey Hepburn has a clone: Natalie Portman.
The 25-year-old Portman, wearing the iconic black column dress worn by Hepburn in 1961's "Breakfast at Tiffany's," graces the cover of the upcoming issue of Harper's Bazaar.
A smiling Portman -- often called the modern-day Hepburn -- channels the spritely Holly Golightly by showing off the back of the dress, which was designed by Givenchy. Pearls are draped around her neck. Her hair, set with a black headband, is swept into a stylish updo in an update of Golightly's signature beehive.
"I did feel very elegant suddenly," Portman tells the magazine. "I mean, you can't possibly measure up to Audrey Hepburn; there's no comparison. But the elegance that she exuded was transmitted to the dress, you know, the feeling, the emotion of it."