《哈利•波特与密室》(精讲之一)
[ 2007-05-08 17:47 ]
影片对白 Not to be rude or anything, but this isn't a great time for me to have a house-elf in my bedroom.
文化面面观
House-elf 家养小精灵
A house-elf is a fictional magical creature in the Harry Potter series of books written by J. K. Rowling. They are small humanoids - though markedly different from humans - that spend their lives serving one family, institution, etc. Unless they are set free, their descendants will carry on their tasks. The race has no real culture of its own and exists only to serve. Their usefulness makes them status symbols of a sort, while their subservience guarantees their status as second-class citizens in the wizarding world.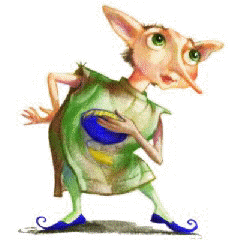 House-elves appear tied to particular houses or families; however it is not entirely clear whether they choose to inhabit certain houses and to serve whoever lives in them, or whether they are somehow bonded to the families themselves. Ron Weasley comments that he wished his family were rich enough to afford a house with a house-elf, implying that they come with the house (and suggesting that they are, in essence, the wizard equivalent of "mod-cons" (modern conveniences)); however, in Harry Potter and the Goblet of Fire, a freed house-elf is asked to find a nice family, suggesting that it is the family, rather than the house, to which a house-elf is tied. Certainly, generations of house-elves have been shown to serve single families, but that may be due to the family living in the same house for all that time.
House-elves wear things like pillowcases and tea cozies, because they are not allowed clothes. If a house-elf's master were to give him any clothing, even a single sock, the elf would be free to leave his family forever. At the end of Chamber of Secrets, Harry tricks Lucius Malfoy into freeing his house-elf, Dobby. Most house-elves would be offended if given clothes, for it would mean that they had failed to properly serve their masters, but some (like Dobby) enjoy being free. However, Dobby still doesn't want to be paid too much (in Goblet of Fire Dobby says he turned down the salary of ten Galleons per week and a holiday of weekends off in favor of one Galleon per week and a day off every month, expressing pride that he had "beaten Dumbledore down" from the more generous offer).
House-elves possess their own form of powerful magic, distinct from that used by wizards and witches, which they generally use to serve their masters. Among other things, this magic allows house-elves to instantly travel places, in a manner similar to apparition, but the house-elves are able to do this within Hogwarts, even though normal apparition is impossible there. Rowling has confirmed that the House-elves apparition is not alike to the way wizards and witches apparate so house-elves can apparate freely in Hogwarts.
As a consequence of their small stature, house-elves can become intoxicated by drinking Butterbeer; human wizards (including children), by contrast, have not been shown to experience any intoxication further than 'warmth'.
J. K. Rowling's characterisation of a house-elf owes a lot to the legends of brownies, and also to the traditional figure of a hobgoblin, a half-tamed, amusing but tricksy goblin of the hearth (the "hob"), often euphemistically called "Robin Goodfellow" or Puck.
家养小精灵在很多国家的民间故事中都出现过。他们的形状和个头各不相同,但大多象人的缩小版,他们可以变形或者在一眨眼的功夫消失。有的精灵很小,可以在蘑菇底下睡觉,有的则大得被人误认为是人类。德国的黑精灵非常可怕,而丹麦精灵则以他们的美丽闻名。在英国民间传说中,男精灵通常被描述为瘦小干瘪的老人,女精灵则是金发可爱的少女。
所有国家的精灵都喜欢利用自己的魔力介入人类生活。虽然我们从未听说过像多比和他的朋友那样忠诚于主人、当做出与主人要求不符的举动会抽打自己作为惩罚的家养小精灵,但是很多精灵确实喜欢在房子周围活动,帮助做家务。在"制靴人和他的小精灵"这篇神话故事里,两个小精灵就来帮助一个贫穷、挨饿的制靴人制造精美的靴子。但是当制靴人和他的妻子为了表示感谢给每个小精灵留了一套新衣服后,小精灵高兴得尖叫起来,他们穿上新衣服走掉了,就再也没有回来。
为什么一只旧袜子作为礼物就能让家养小精灵多比获得自由呢?虽然我们不知道有关家养小精灵的全部规则,但是我们知道家养精灵确实对新衣服会有强烈的反应。有些精灵,就像制靴人家里的那两个,看到漂亮的新衣服确实会由衷的高兴,但是也有小精灵会觉得这样的礼物是在冒犯他们。但是无论怎样,这两种方式得到的结果都一样,就是他们会走掉,再也不会回来了。