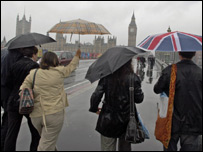 Umbrellas are useful when it rains!
Britain is famous around the world for its rainy weather, but many parts of the country this June are experiencing much more rain than they have ever seen before.
Torrential downpourshave caused riversto burst their banks, roads have been closed and many people have beenevacuatedfrom their homes because of thefloods.
Theworst hitarea seems to be the north of England. There have even beenfatalitiesas people got stuck in the rain or werewashed awayby the floodwaters.
Flood warnings have beenissuedin many parts of the UK and it is said that overa month's worthof rain has fallen in just the last couple of days.
The rain has also causedchaosat some of Britain's famous June events. The Glastonbury festival is a four-day-long outdoor music festival and while it is traditionally quite rainy andmuddythere, this year was particularly bad.
Everyone was wearingwelliesand there have been many pictures in the newspapers of people covered from head to toe in mud. It rained throughout the festival and with more than 170,000revellerswalking around and camping on the grounds, it didn't take long for the site to turn intoa mud bath.
June also sees the start of the Wimbledon tennis tournament. The start of play on the first day wasdelayedby half an hour or so because of the rain and had to behaltedagain mid-afternoon for a couple of hours. There are no floods in the London region though, justfrequent showers.
So while the British would like to haveglorious sunshineduring the summer months, the rain continues to fall in most areas. People in Britain are used to havingunpredictableweather – cold rainy summer days and warmer winter months. However this amount of rain anddevastationis even more unexpected.
People can only hope that the rain will stop soon and the sun will come out, so they can eventually start to enjoy a nicer summer.