姚明:点火炬不敢想 扛大旗不想让
[ 2007-07-04 09:08 ]
7月3日,姚明出现在可口可乐"奥运星阵容"的活动现场。对于北京奥运,他表达了自己的兴奋之情,特别是对担任代表团旗手的"贪心"。小巨人说:"自1984年奥运会以来,中国代表团的旗手一直是男篮的,我不希望自己还在打球的时候这个传统就这样终止。哪怕到时候是男篮的其他队员举旗呢!……"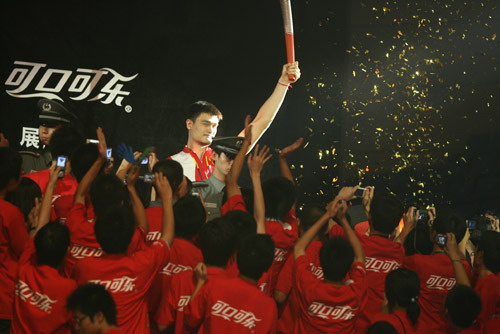 Yao Ming (C) participates in an Coca Cola commercial engagement in Beijing July 3, 2007.
NBA star center Yao Ming is keen on repeating his feat of bearing the Chinese national flag at the opening ceremony of the Beijing Olympics next summer, although he expects serious challenge for the honor from Olympic gold medallist Liu Xiang.

"It has been a tradition of the Chinese delegation since 1984 to have a male basketball player to bear the flag," said Yao, who was here on Tuesday to attend a Coca Cola activity of recommending and choosing 2008 Beijing Olympics torch relay runners. "I don't want to see the end of this tradition when I am still playing."
He added, "Even if it would not be me, I hope it would be somebody from the national basketball team. I know it sounds partial, but I do have that little thought in my mind."
Yao, the undisputed most famous and influential Chinese sportsman before the last Olympic Games, was an unanimous candidate for the flag bearer three years ago. But things changed after Liu Xiang became a national hero by landing the first ever Olympic track and field gold medal for Chinese men in the 110 meters hurdle at Athens.
"Yes, we've got serious challenges from other teams and players. Top challengers will be Liu Xiang and players from the women's volleyball team," Yao said.
The Chinese women, who outlasted Russia in an astonishing five-set thriller for the women's volleyball gold in Athens, enjoyed considerable popularity in the host country of the 2008 Olympic Games.
"There has been no female flag bearer for China in the history, but nothing is impossible," Yao said.
Yao has also been considered as one of the favorites to be the last runner in the torch relay who will light the Olympic flame at the opening ceremony, but he seemed to be less optimistic than others.
"The one to light the flame? Oh, I hardly dare to imagine that, " Yao said. "If you have watched past Games, you must know that all those lucky birds who had that honor enjoyed magnificent sports careers.
"I still have a long way to go to catch up with them, but I will try my best in the time left for me."
(Xinhua)

Vocabulary:

torch relay runners: 火炬手

flag bearer: 旗手

(英语点津陈蓓编辑)