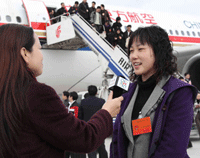 Zhu Xueqin 
China's National People's Congress(NPC) confirmed the qualification of three rural migrant workers as its newly-elected deputies, making them the first batch of "spokespersons" for about 200 million migrant laborers in the top legislature.
They were approved for a five-year term as the 11th NPC deputy at the 32nd session of the 10th NPC Standing Committee, and will attend the upcoming first plenary session of the 11th NPC.
All the three were elected in popular migrant-worker destinations including Shanghai, Guangdong, and Chongqing.
The trio, who were in a list of 2,987 new deputies to the 11th NPC unveiled are:
-- Zhu Xueqin, 31, formerly a villager in east China's Jiangsu Province. With only a high school diploma, she went to Shanghai in 1995 to seek better job opportunities. Now she is vice chairwoman for the trade union of a noted Shanghai-based fashion company.
-- Hu Xiaoyan, 34, a native of southwestern Sichuan Province. Hu has worked at a building ceramics company in Foshan City in the southern Guangdong Province for five years. She had been promoted to deputy workshop chief.
-- Kang Houming, 45, a native of Chongqing Municipality. He has been working at a construction company in southwest Chongqing Municipality for 9 years.
(Source:chinadaily.com.cn)