Liu Xiang
[ 2008-03-03 17:30 ]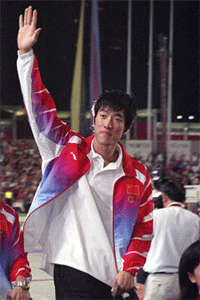 Liu Xiang 
Chinese hurdler and Olympic champion Liu Xiang has run into a completely new arena after being elected a member of the nation's top political advisory body.
Liu, 25, was one of the youngest among the 2,237 people chosen as members of the 11th National Committee of the Chinese People's Political Consultative Conference (CPPCC).
Liu Xiang, born on July 13, 1983 in Shanghai, is a Chinese 110 metre hurdler, an Olympic Gold medalist, the reigning World Champion, and is the world record holder in the 110 metre hurdles at 12.88 seconds. His 2004 Olympic gold medal was China's first in a men's track and field event. Further he is the first Chinese athlete to achieve the "triple crown" of athletics (World Record Holder, World Champion and Olympic Champion) concurrently.
(Source:chinadaily.com.cn)