Can't say the same?
中国日报网 2013-03-12 13:42
分享到微信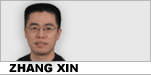 Reader question:
Please explain this sentence: Decent food, but I can't say the same about the service.
My comments:
To paraphrase: The food at the restaurant is OK (decent), but the service is not.
The speaker describes one thing (food) with an adjective (decent), but he cannot describe another thing (service) with the same word, that's all.
That's it. "Can't say the same" is just a round about way of saying one thing is not at all as good as the other (mentioned earlier). The speaker finds saying directly that the service is poor to be too straightforward and blunt. Therefore he uses "can't say the same" to sound less blunt and more polite.
The great Willie Nelson sings in "Still water runs deepest":
Still water runs the deepest
Like a love complete and through
So peaceful and dependable
I can't say the same about you
Our love is cold and selfish
It never could be true
One time I loved you truly
I can't say the same about you
Here, the singer compares his lover to still water, which "runs deepest" and is like "a love complete and dependable" but he can't say the same about his lover. In other words, she's not like that. Not at all.
He can say that one time he loved her truly but he can't say the same about her. That means he doesn't think she loved him at all.
The other day, I read a special report on the Nordic countries (The Economist, February 2, 2013) whose people, among other things seem to have a high level of "trust in strangers and belief in individual rights", saying in part:
Economists say that high levels of trust result in lower transaction costs—there is no need to resort to American-style lawsuits or Italian-style quid-pro-quo deals in order to get things done. But its virtues go beyond that. Trust means that high-quality people join the civil service. Citizens pay their taxes and play by the rules. Government decisions are widely accepted.
The last three sentences are especially striking to me. "Trust means that high-quality people join the civil service. Citizens pay their taxes and play by the rules. Government decisions are widely accepted."
I mean, I wish I could say the same about this country.
I hope I can.
One day.
Anyways, here are more media examples of "can't say the same":
1. Venezuelan lawmakers will meet Saturday in a session that could shed light on what steps may be taken if President Hugo Chavez is too sick to be sworn in for a new term next week.
Legislators will choose a president, two vice presidents and other leaders of the National Assembly, which is controlled by a pro-Chavez majority. Whoever is elected National Assembly president could end up being the interim president of Venezuela if Chavez is unable to be inaugurated on Thursday as scheduled.
Brewing disagreements over how to handle a possible transition of power also could be aired at the session, coming just five days before the scheduled inauguration day specified in the constitution. Chavez's health crisis has raised contentious questions ahead of the swearing-in, including whether the inauguration could legally be postponed.
The government revealed this week that Chavez is fighting a severe lung infection and receiving treatment for "respiratory deficiency" more than three weeks after undergoing cancer surgery in Cuba. The announcement suggests a deepening crisis for the 58-year-old president and has fed speculation that he likely is not well enough to travel to Caracas for the inauguration.
National Assembly President Diosdado Cabello called on Chavez backers to show up for the legislative session and demonstrate their support.
"This National Assembly is revolutionary and socialist. It will remain beside the people and our commander," Cabello said in one of several messages on his Twitter account. "If the opposition thinks it will find a space in the National Assembly to conspire against the people, it's mistaken once again. It will be defeated."
...
On the streets of Caracas, some of Chavez's supporters say they're still holding out hope he can recover.
"He's the only leader of the revolution," said Miriam Bolivar, who belongs to a grassroots pro-Chavez group. "We can't imagine life without him. He's our life. This is one more battle and we have faith that he'll come out it unscathed once again."
Other Chavez supporters say they're unsure what to believe about his condition and express misgivings about the president's lieutenants.
"We hope that what they're telling us is true," said Ricardo Maya, a supporter who was reading a newspaper in a city square. "Chavez has all my confidence. He always speaks the truth. I can't say the same about the people around him."
- Venezuela's Chavez fighting severe lung infection, Associated Press, January 4, 2013.
2. On Friday, February 22nd, Mondo will release Jerry Goldsmith's POLTERGEIST (1982) featuring brand new album cover design by We Buy Your Kids (the Australian art duo Sonny Day and Biddy Maroney) which recently collaborated with Mondo on their latest gallery show, "Tina's Mom's Boyfriend" last November. While I've been lukewarm on the bulk of their work, I'm absolutely delighted with the cover they've designed for the POLTERGEIST album. I especially love the full-bodied specter featured in the cross-panel interior of the album.
I couldn't be more excited about this particular release. It's an incredible score by one of the true masters of film music. It contains additional tracks from the original LP released in 1982 and mirrors the CD that Rhino released in 1997. It's been completely remastered specifically for vinyl by James Plotkin and pressed on high-grade 180 gram vinyl. POLTERGEIST features two LPs and will fetch a price of $25. It will be available via their web site at MondoTees.com. The clear-vinyl variants will be randomly inserted amongst the regular black vinyl editions. As with all of Mondo's products, the exact time these albums go on sale will NOT be announced ahead of time. They will announce the precise moment the sale goes live via Twitter (@MondoNews). All three previously released albums sold out rather quickly and this one should be no different.
I've listened to the test pressings and the audio sounds absolutely incredible. I'm a tremendous fan of this score and while I was listening to it, I was amazed at how wonderful the music sounded on vinyl. I A/B compared it to the other digital versions I have of this score. I'm new to the vinyl collecting world and I'll never turn my back on CDs or digital formats, but I have to say, I'm completely sold on the push to own certain soundtracks on vinyl. The music sounds like it's coming from an ensemble of musicians sitting right in front you. I can't say the same about CDs. While digital formats indeed sound great, they don't sound natural. I'm starting to think it's analogous to practical effects over CGI. Perhaps CGI looks better, but it certainly doesn't feel like the object is actually there with the actors on screen like good old practical effects deliver.
- Mondo Releases Jerry Goldsmith's POLTERGEIST on Vinyl! AintItCool.com, February 13, 2013.
本文仅代表作者本人观点,与本网立场无关。欢迎大家讨论学术问题,尊重他人,禁止人身攻击和发布一切违反国家现行法律法规的内容。
About the author:
Zhang Xin is Trainer at chinadaily.com.cn. He has been with China Daily since 1988, when he graduated from Beijing Foreign Studies University. Write him at: zhangxin@chinadaily.com.cn, or raise a question for potential use in a future column.
相关阅读:
(作者张欣 中国日报网英语点津 编辑:陈丹妮)
中国日报网英语点津版权说明:凡注明来源为"中国日报网英语点津:XXX(署名)"的原创作品,除与中国日报网签署英语点津内容授权协议的网站外,其他任何网站或单位未经允许不得非法盗链、转载和使用,违者必究。如需使用,请与010-84883561联系;凡本网注明"来源:XXX(非英语点津)"的作品,均转载自其它媒体,目的在于传播更多信息,其他媒体如需转载,请与稿件来源方联系,如产生任何问题与本网无关;本网所发布的歌曲、电影片段,版权归原作者所有,仅供学习与研究,如果侵权,请提供版权证明,以便尽快删除。