Slam dunk? 巨大成功
中国日报网 2019-02-22 13:26
分享到微信 Reader question:
Please explain "slam dunk", as in someone saying "the new smartphone is a slam dunk".

My comments:
The "new smartphone" being described as "a slam dunk" means that the speaker believes it's going to be a big success.
A definite success, as a matter of fact. A sure thing.
Basketball fans understand this immediately because originally, slam dunk refers to a high jumping player stuffing the basketball into the net from above the rim. Dunk, as in dunking a lump of sugar into the coffee cup, implies that this is something easy to do. Slam, as in slamming the door shut with a loud bang, implies it's easy to put the ball into the basket from above the rim and emphatically so.
The basket, you see, is ten feet or 3.05 meters above the floor. Most guys who are short or those cannot jump that high don't have a chance to do a dunk. They have to shoot the basketball from under the hoop or rim or ring as the basket is variously called. And if the areas under or near the basket is crowded, they have to shoot the ball from distance. Obviously, the farther you are from the basket, the more difficult it is for you to make a shot. In other words, the longer the distance, the lower the shooting percentage – or the lower your shooting accuracy is.
A dunk, on the other hand, is easy and certain. One who can jump high enough and drop the ball through the hoop is able to dunk the ball and earn two points every single time, if, that is, there's no one nearby to stop him by attempting to blocking the shot. So a slam dunk is a sure shot, 100 percent sure and certain.
Hence and therefore, as a metaphor, if someone describes something as a "slam dunk" they mean to say that it's a sure success, a sure thing and there's no doubt about it.
In our example, the new smartphone being thus described means that the speaker believes the new phone will succeed, succeed big time, will sell a lot. Users are going to like it.
In other words, like a slam dunk, it cannot miss.
All right, here are a few more media examples of things described as a slam dunk, metaphorically speaking:

1. Sometimes, state-based legislative change seems to be an incremental thing, with bills trickling through state houses across the country so slowly that a casual observer wouldn't notice — which is often what backers of such campaigns would prefer.
And then there's the supernova approach. That's what a coalition of progressive and women's empowerment groups are trying this week around the issue of equal pay, advancing bills in nearly half the states at once — from Alaska to Kansas — in a bid to elevate solutions to America's nagging gender pay disparity at a time when little seems likely to happen in Congress.
"We decided that because legislators have been asking for it, let's try to make a coordinated effort around this to try to nationalize the issue," said Nick Rathod, director of the State Innovation Exchange, a three-year-old network of progressive state legislators.
On the menu of policy ideas that a state legislature might decide to take on, equal pay is relatively low-hanging fruit. It polls well — most people say they want everybody to receive the same compensation for similar work — and there are several options for how to address it, from simply increasing penalties for violations of existing laws to requiring minimum salaries on job postings, so that women and people of color can't be lowballed.
But that doesn't mean it's a slam dunk. The biggest challenge, lawmakers say, is getting their colleagues to agree that the gender pay gap is still a problem, more than 50 years after Congress passed the Equal Pay Act of 1963, which banned discrimination on the basis of sex. Despite that and many similar state laws, women often aren't even aware they're being paid less than men for similar work, much less willing to go through the hassle of a lawsuit— as many people realized when the Sony e-mail hack revealed that actress Jennifer Lawrence was paid much less than her male co-stars.
- Legislators organize blitz of equal-pay legislation in nearly half the states, WashingtonPost.com, January 28, 2016.

2. How do you translate skills as a basketball coach into the corporate world?
If you're Brian Daly, it's a slam dunk.
Daly, 46, grew up in Lansdowne and was a basketball star at Monsignor Bonner High School where he averaged more than 20 points each game during his senior year and went on to play as a small forward for the St. Joe's Hawks with that team winning two Big 5 championships.
Daly, now of Ardmore, left a plum coaching spot as an assistant coach at Penn State in 2015 to come back to the Philadelphia area for family reasons.
"Families always come first," Daly said. "I've never regretted my decision."
Now Daly is "head coach" for Independence LIVE, a new customer experience center from Independence Blue Cross at 1919 Market Street in Philadelphia. Daly is in charge of a team of eight "super agents," who meet with clients face-to-face and help them with their insurance needs. The LIVE center also has 30 health and wellness activities for members from stretching to yoga to Zumba, and offers cooking demonstrations, stress management, family health, and financial health classes and seminars. There is also a large meeting space that is available for community groups.
Daly is happy to "develop the talent here at Independence Blue Cross." He loves that there are opportunities to mentor younger agents.
"When you're a coach, you really thrive on relationships. You help your players be the best they can be. I now help my staff be the best they can be."
- Brian Daly taking coaching skills to corporate world, MainLineMediaNews.com, March 14, 2017.

3. When I heard Vancouver Island Brewing was going to be doing a Nanaimo bar porter, my first thought was, "How has no one else thought of this yet?"
Because, like most great ideas, it seems really obvious. Pastry stouts and dessert beers are all the rage right now, and the Nanaimo bar is an iconic B.C. confection. Put them together and it's a slam dunk. So kudos to VI for being the first (as far as I know) to pull this off. I have a feeling in a couple years time, a lot of B.C. breweries are going to be doing Nanaimo bar porters and stouts—and I for one welcome our new provincial beer style.
I'll be honest though, I'm not a huge fan of the actual dessert. I find Nanaimo bars to be too rich, too sickly sweet, and just altogether too much.
Thankfully, VI's take on the Nanaimo bar avoids the nauseating extremes of its inspiration, instead focusing on the flavour profile. And the Nanaimo bar flavour notes are present and accounted for: chocolate, vanilla, roasted coconut, graham cracker; the whole gang is here.
The body is rich and creamy, but not overly chewy, and there's a kiss of alcoholic warmth on the back end. The finish is sweet—after all, it was brewed with maltodextrin, a vegan substitute for the lactose often found in dessert stouts and milkshake IPAs. But the finish stops short of cloying.
The result is exceptionally smooth and delicious, with all the decadence of a Nanaimo bar and none of the excess.
- A B.C. brewer has made a Nanaimo Bar flavoured beer, by Rob Mangelsdorf, VancouverIsAwesome.com, February 15, 2019.
本文仅代表作者本人观点,与本网立场无关。欢迎大家讨论学术问题,尊重他人,禁止人身攻击和发布一切违反国家现行法律法规的内容。
About the author: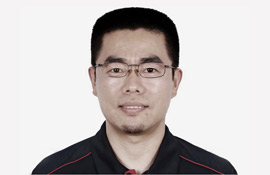 Zhang Xin is Trainer at chinadaily.com.cn. He has been with China Daily since 1988, when he graduated from Beijing Foreign Studies University. Write him at: zhangxin@chinadaily.com.cn, or raise a question for potential use in a future column.
(作者:张欣 编辑:丹妮)
中国日报网英语点津版权说明:凡注明来源为"中国日报网英语点津:XXX(署名)"的原创作品,除与中国日报网签署英语点津内容授权协议的网站外,其他任何网站或单位未经允许不得非法盗链、转载和使用,违者必究。如需使用,请与010-84883561联系;凡本网注明"来源:XXX(非英语点津)"的作品,均转载自其它媒体,目的在于传播更多信息,其他媒体如需转载,请与稿件来源方联系,如产生任何问题与本网无关;本网所发布的歌曲、电影片段,版权归原作者所有,仅供学习与研究,如果侵权,请提供版权证明,以便尽快删除。