鲍里斯强硬喊话:宁可提前举行大选,绝不延迟脱欧!
英国普罗派乐卫视微博  2019-09-10 09:21
分享到微信 当地时间9月2日,在没有提前预告的情况下,英国首相鲍里斯·约翰逊突然召开内阁紧急会议,随后在唐宁街10号办公室外发表简短声明,强调他坚持"在任何情况下都不会要求欧盟再次推迟英国脱欧日期";如果议会通过阻挠英国如期脱欧的法案,政府将提出在10月14日提前举行大选的动议。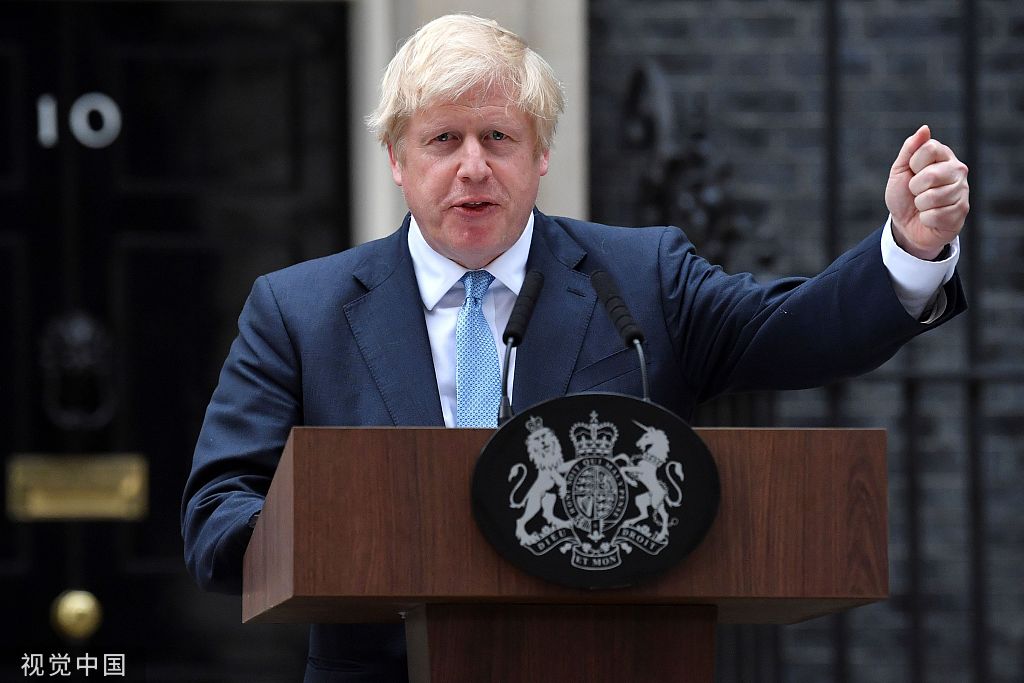 Statement by Prime Minister Boris Johnson on Downing Street
2 September 2019
Five weeks ago, I spoke to you from these steps and said that this Government was not going to hang around and that we would not wait until Brexit day – October 31 – to deliver on the priorities of the British people.
And so I am proud to say that on Wednesday, Chancellor Sajid Javid is going to set out the most ambitious spending round for more than a decade.
I said I wanted to make your streets safer – and that is why we are recruiting another 20,000 police officers.
I said I wanted to improve your hospital and reduce waiting times at your GP.
And so we are doing 20 new hospital upgrades in addition to the £34 billion more going into the NHS.
And I said I wanted every child in this country to have a superb education and that's why I announced last week that we are levelling up funding across the country and spending much more next year in both primary and secondary schools.
And it's to push forward this agenda on these and many other fronts that we need a Queen's speech in October while leaving due time to debate Brexit and other matters.
And as we come to that Brexit deadline, I am encouraged by the progress we are making.
In the last few weeks, the chances of a deal have been rising, I believe, for three reasons.
They can see that we want a deal.
They can see that we have a clear vision for our future relationship with the EU – something that has not always perhaps been the case.
And they can see that we are utterly determined to strengthen our position by getting ready to come out regardless, come what may.
But if there is one thing that can hold us back in these talks, it is the sense in Brussels that MPs may find some way to cancel the referendum. Or that tomorrow, MPs will vote with Jeremy Corbyn for yet another pointless delay.
I don't think they will. I hope that they won't.
But if they do, they will plainly chop the legs out from under the UK position and make any further negotiation absolutely impossible.
And so I say, to show our friends in Brussels that we are united in our purpose, MPs should vote with the Government against Corbyn's pointless delay.
I want everybody to know – there are no circumstances in which I will ask Brussels to delay. We are leaving on 31 October, no ifs or buts.
We will not accept any attempt to go back on our promises or scrub that referendum.
And, armed and fortified with that conviction, I believe we will get a deal at that crucial summit in October – a deal that Parliament will certainly be able to scrutinize.
And in the meantime, let our negotiators get on with their work, without that sword of Damocles over their necks, and without an election…without an election. I don't want an election, you don't want an election.
Let's get on with the people's agenda – fighting crime, improving the NHS, boosting schools, cutting the cost of living, unlocking talent and opportunity across the entire United Kingdom, with infrastructure, education and technology.
It is a massive agenda. Let's come together and get it done – and let's get Brexit done by October 31.
Thank you very much.
(来源:英国普罗派乐卫视微博 编辑:yaning)
中国日报网英语点津版权说明:凡注明来源为"中国日报网英语点津:XXX(署名)"的原创作品,除与中国日报网签署英语点津内容授权协议的网站外,其他任何网站或单位未经允许不得非法盗链、转载和使用,违者必究。如需使用,请与010-84883561联系;凡本网注明"来源:XXX(非英语点津)"的作品,均转载自其它媒体,目的在于传播更多信息,其他媒体如需转载,请与稿件来源方联系,如产生任何问题与本网无关;本网所发布的歌曲、电影片段,版权归原作者所有,仅供学习与研究,如果侵权,请提供版权证明,以便尽快删除。