Lift the curtain? 揭露
中国日报网 2020-05-19 13:10
分享到微信 Reader question:
Please explain this sentence, particularly "lifted the curtain": Universal Studios has lifted the curtain on the next adventure for super spy Jason Bourne which will play at its theme park complex in Florida.
My comments:
Here the curtain is proverbial, i.e. figurative.
In the literal sense, of course, the curtain refers to the big hanging piece of fabric used to shield actors on the stage in a theater.
When play begins, the curtain is lifted, revealing what's on stage and what we are about to see.
When the play is finished, we see the curtain drawn or pulled down again. Then, of course, the audience's view is again blocked by the curtain. We are no longer able to see what goes on behind the curtain.
Hence, in our example, when Universal Studios lifts the curtain on the next adventure for super spy Jason Bourne, we know something that we didn't know. In other words, it's a revelation. Something is revealed for us to see. Something is unveiled.
We now know, among other things, another Jason Bourne spy movie is indeed in the making.
So, in short, if the curtain is lifted or pulled back or brought down, something behind is revealed.
Okay?
Okay, fair enough. Here are recent media examples of the proverbial curtain being lifted or pulled or, in example 2, "torn back":

1. HARVARD UNIVERSITY CAN continue using race as a factor in its admissions decisions following a federal judge's ruling Tuesday in a high-profile and contentious case that had major implications for the entire higher education industry.
"For purposes of this case, at least for now, ensuring diversity at Harvard relies, in part, on race conscious admissions," the judge, Allison Burroughs, wrote in the conclusion of her decision. "The students who are admitted to Harvard and choose to attend will live and learn surrounded by all sorts of people, with all sorts of experiences, beliefs and talents. They will have the opportunity to know and understand one another beyond race, as whole individuals with unique histories and experiences. It is this, at Harvard and elsewhere that will move us, one day, to the point where we see that race is a fact, but not the defining fact and not the fact that tells us what is important, but we are not there yet."
The long-awaited decision rejects the plaintiff's charge that Harvard discriminated against Asian Americans in admissions and affirmed that race-based admissions policies are still needed to ensure diversity on campuses – though a time may come when that's not the case, Burroughs said.
"Harvard College's admissions process aims to evaluate each individual as a whole person," Lawrence Bacow, president of Harvard, said in a statement. "The consideration of race, alongside many other factors, helps us achieve our goal of creating a diverse student body that enriches the education of every student. Everyone admitted to Harvard College has something unique to offer our community, and today we reaffirm the importance of diversity—and everything it represents to the world."
The plaintiff, Students for Fair Admission, plans to appeal this decision to the First Court of Appeals and, if necessary, to the U.S Supreme Court.
...
The lawsuit lifted the curtain on an elite university's admissions policy, which had long been shrouded in secrecy, forcing Harvard to reveal for the first time how its admissions officers treat special categories, including legacy applicants, applicants whose families made sizeable donations, children of faculty and recruited athletes, the latter of which were admitted 86 percent of the time.
The revelation, among others, plays into the ongoing narrative that higher education is a rigged system accessible only to the wealthiest and most elite families – a point further bolstered by the recent college admissions scandal, in which parents paid a college counselor a combined $25 million to help students cheat on college entrance exams and gain them admission to elite colleges and universities as recruited athletes when in reality they were not athletes at all.
- Judge Upholds Harvard's Race-Based Admissions Policy, USNews.com, October 1, 2019.

2. Former President Barack Obama, during the first of two virtual commencement speeches he will give on Saturday, said the coronavirus pandemic has highlighted a lack of political leadership during the crisis.
"More than anything, this pandemic has fully, finally torn back the curtain on the idea that so many of the folks in charge know what they're doing," Obama said during his speech. "A lot of them aren't even pretending to be in charge."
While Obama didn't mention President Trump by name — or any other national or global leaders — his remark comes on the heels of saying earlier this week that the Trump administration's handling of the pandemic has been "anemic and spotty." Obama added the pandemic "would have been bad even with the best of governments" in place.
Obama's commencement address was delivered online and aimed at graduates of historically black colleges and universities, covering 78 schools and more than 25,000 students. The ex-president acknowledged the "timing is not ideal" for the graduates, as the pandemic has killed more than 87,000 Americans and decimated the global economy.
Obama said the pandemic has been especially devastating to black Americans, while also referring to the killing of Ahmaud Arbery, a 25-year-old black man who was shot and killed earlier this year by two white men in Georgia while he was jogging. The two men behind Abery's shooting were arrested last week on murder and aggravated assault charges.
"And let's be honest — a disease like this just spotlights the underlying inequalities and extra burdens that black communities have historically had to deal with in this country," Obama said. "We see it in the disproportionate impact of COVID-19 on our communities, just as we see it when a black man goes for a jog, and some folks feel like they can stop and question and shoot him if he doesn't submit to their questioning."
- Obama Says Coronavirus Has 'Torn Back the Curtain' on Poor Leadership, TheWrap.com, May 16, 2020.

3. In this final excerpt from Jerry Krause's unfinished and unpublished memoir, the Bulls' general manager pulls back the curtain on the end of the dynasty.
...
"There's Jerry Krause, the guy who broke up the championship dynasty."
"There's Jerry Krause, the guy with the huge ego who wanted to build a championship team without Michael Jordan and Phil Jackson, the guy who thought he was more important than the players and coaches."
If I've heard or seen those quotes a thousand times in different publications and venues throughout America, you can be sure there were thousands of them said to which I wasn't privy.
Up until now, as you read this, nobody outside of Jerry Reinsdorf, myself and a few select people in the Bulls organization really knows what happened in the aftermath of winning our sixth world championship in eight years.
Did we break up the winning team so that we could satisfy our own egos and win without those players and coaches? Do you really think that people who worked for so many years to win and then win again and again would be dumb enough to let egos get in the way of trying to win again?
Do you think that an organization built with one single purpose, from its chairman on down through the lowest-ranking member of the front office — to win championships — would easily give up that thought?
- Jerry Krause explains why the Bulls' dynasty unraveled, in his words, NBCSports.com, May 17, 2020.
本文仅代表作者本人观点,与本网立场无关。欢迎大家讨论学术问题,尊重他人,禁止人身攻击和发布一切违反国家现行法律法规的内容。
About the author: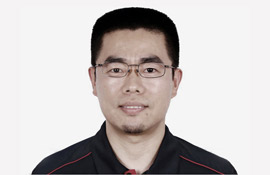 Zhang Xin is Trainer at chinadaily.com.cn. He has been with China Daily since 1988, when he graduated from Beijing Foreign Studies University. Write him at: zhangxin@chinadaily.com.cn, or raise a question for potential use in a future column.
(作者:张欣 编辑:丹妮)
中国日报网英语点津版权说明:凡注明来源为"中国日报网英语点津:XXX(署名)"的原创作品,除与中国日报网签署英语点津内容授权协议的网站外,其他任何网站或单位未经允许不得非法盗链、转载和使用,违者必究。如需使用,请与010-84883561联系;凡本网注明"来源:XXX(非英语点津)"的作品,均转载自其它媒体,目的在于传播更多信息,其他媒体如需转载,请与稿件来源方联系,如产生任何问题与本网无关;本网所发布的歌曲、电影片段,版权归原作者所有,仅供学习与研究,如果侵权,请提供版权证明,以便尽快删除。