Arm twisting tactics? 强制手段
中国日报网 2020-12-22 14:29
分享到微信 Reader question:
Please explain the term "arm twisting tactics".

My comments:
That's a strategy to achieve one's goal by coercion, or forceful means.
If you'd seen policemen twist the arms of a criminal before tying them behind their back, you would have had an idea of arm twisting, literally.
Let me give you another example. Round the dining table, say, a group of old friends are drinking and having a good time. Three hours later, everybody is sated of food and drink. It's time to go. But before they rise from their seat, someone proposes another round of beer. Most people say they don't think it a good idea. After a heated argument, however, people settle back into their seat again, agreeing to another round of beer, the final round. He who makes the proposal has succeeded in arm twisting the whole group to another drink because frankly he threatens to get mad and has literally pushed a few people back into their seats.
See?
There's a similar term to this, and that is "strong arm". As verb, if you strong arm your opponent, as if on the wrestling mat, you're using an arm-twisting tactic in order to bend your opponent, to your will, or rather whim – people who use arm-twisting tactics are not going to reason with you through words and logic, but rather by force and coercion, making threats and throwing a tantrum and so forth.
In fact, logic may not be the strongest suit of people who like to twist the arm of others in order to persuade them to do their bidding.
Alright, here are recent media examples of arm-twisting in various situations:

1. The railways has stopped goods trains to Punjab despite protesting farmers' groups reportedly allowing them.
The farmers' representatives will meet in Delhi on Tuesday to decide the agitation's future.
The railways said on Monday that a few goods trains were stopped by the protestors at Moga, Jaitu and Talwandi Sabo carrying wheat and coal.
The movement of goods trains has been affected in the state since September 24 due to the farmers' agitations against the new farm laws.
On October 21, the farmers decided that only goods trains would be allowed to pass, and that decision on passenger trains would be taken on November 4.
Sources said in the last few days till Sunday, both Ferozepur and Ambala divisions operated around 173 goods trains. But at many places, the rakes came back from midway reporting disruption.
Divisional Rail Manager (Ferozepur Division), Rajesh Aggarwal said a few empty passenger trains being taken to the maintenance yards were stopped by the farmers.
"On October 23, we decided to stop the inward movement of good trains till October 29. We'll decide further as the situation develops.'
Balbir Singh Rajewal (BKU-Rajewal group chief) said the railways' decision is an arm-twisting tactic.
Kamana Raj Aggarwalla, Regional Chairperson of Engineering Export Promotion Council (North), said at least 3,500 containers are stuck in Ludhiana due to the farmers' agitation.
"These are ready for dispatch. Taking the containers by road is a short-term solution and is very expensive," she said.
- Railways stops freight trains in Punjab citing farmers' protests, NewIndianExpress.com, October 27, 2020.

2. It has long been taken for granted that the majority of evangelical Christians in the United States will vote for Donald Trump.
That may well be the case. But there are recent signs that fewer evangelicals will support Trump this time around than in 2016.
In an August 2020 poll for Fox News, Trump registered a 38-point advantage over Joe Biden among white evangelical voters. That is impressive, but it pales in comparison with his 61-point advantage over Hillary Clinton among evangelicals in the 2016 election.
Meanwhile, a Pew survey on Oct. 13 found that white evangelical support for Trump had slipped since August, from 83% to 78%.
Among those who plan to vote to reelect the current president, "a majority are excited to get behind Trump, rather than being primarily motivated by a distaste for his opponent," according to a write-up of the Pew survey in the prominent evangelical publication Christianity Today.
To me, this suggests not so much a softening among evangelical voters an intensification of their feelings about Trump. I believe we are witnessing a growing divide between those who love him and those who increasingly question whether he is fit for office. Unlike in 2016, evangelical voters who cannot get excited about Trump are seemingly finding it more difficult to vote for him.
There hasn't been a lot of research into what is behind this trend. But as a moral theologian, I'm interested in the moral reasoning that some prominent evangelical Christians have put forward in recent months explaining why they won't be voting for Trump. It seems that at least some are reconsidering the relationship between leadership and character.
When Trump was campaigning in 2016, many Christians conceded that while they didn't approve of his crude personality or his "immoral" lifestyle, they believed his policies – such as his promises to protect religious freedom and his commitment to overturning Roe v. Wade – were more in line with their religious beliefs than those of Hillary Clinton.
"We're electing a president, not a pastor," was a common refrain.
Evangelical Christians in the U.S. are not a monolithic voting bloc that supports conservative candidates. There has always been a politically progressive contingent among evangelicalism. Jim Wallis, founder of the left-leaning evangelical magazine Sojourners, for example, served as a member of President Obama's Advisory Council on Faith-Based and Community Partnerships. Unsurprisingly, progressive evangelical voters have been critical of the president's character as well as his policies.
But what appears to have changed of late is that some politically conservative evangelicals – those who prioritize abortion restrictions, opposition to same-sex marriage and religious freedom – agree less than they did in 2016 that Trump deserves their vote.
While President Trump may not be "pastor-in-chief," many evangelical leaders are reminding their fellow Christians that they should not view the office of president as somehow exempt from what they perceive as biblical standards of leadership. As Christian business leader Sid Jansma Jr. explained in a recent article: "The Bible routinely associates good leadership anywhere with character, including such traits as justice, patience, compassion, humility, integrity, honesty, wisdom, courage and discipline." Citing the Apostle Paul's second letter to Timothy in the Bible, Jansma concludes, "On every Biblical count of leadership, all of the above, Trump fails."
Prominent evangelical pastor and author John Piper has likewise drawn on several biblical texts when writing about the choice facing voters: "There is a character connection between rulers and subjects. When the Bible describes a king by saying, 'He sinned and made Israel to sin' … it does not mean he twisted their arm. It means his influence shaped the people. That's the calling of a leader. Take the lead in giving shape to the character of your people. So it happens. For good or for ill."
In this reading, the Bible does not have a category for a good leader with bad personal character. Nor does it seem to imagine that a nation can remain untainted by the perceived moral failures of its leaders.
- For a growing number of evangelical Christians, Trump is no longer the lesser of two evils, TheModerateVoice.com, October 28, 2020.

3. Visits with Santa have been a longstanding tradition for many families during the holiday season. But this year, things are different because of the COVID-19 pandemic.
Many large gatherings have been, scaled down or gone virtual. And many who play jolly old St. Nick and his wife, Mrs. Claus, are reluctant to see children in person for fear of catching or spreading the virus.
Patch recently spoke with several Floridians who play Santa and Mrs. Claus to see how they've adapted their roles during the coronavirus pandemic.
Dan Ciferri, Port St. Lucie
Dan Ciferri was introduced to the world of Santa through his uncle, a Santa trainer for Macy's. He suggested that his nephew give the jolly role a shot about 17 years ago.
"At the time, I was more than 400 pounds, a pretty good size, and he said, 'You ought to play Santa,'" Ciferri said. "So, I played Santa. I loved being with the kids. I enjoyed being around them and doing things with them."
The Treasure Coast Santa started with a fake beard. After his second year, he began attending schools to perfect his performance. His teachers all agreed on one piece of advice: a real professional Santa has a real beard.
"So, I grew myself a beard," he said. "I've been real bearded for about 15 years."
The former restaurant owner and school bus driver has focused most of his efforts on his Santa role in recent years. He's usually in high demand at this time, even booking his events up to a year in advance.
Last year, Ciferri appeared at 74 events. That was on top of working at a Christmas tree farm five nights a week, he said. "I make a year's salary in 30 days."
And while he's lost all of his events because of the coronavirus pandemic this season, he knows he's luckier than most.
He said, "I'm retired and able to not have to worry about the money, but I know a lot of Santas really thrive on doing it."
They benefit financially, mentally and emotionally, he said. And while COVID-19 has impacted many industries, it's especially bad for Santas who love connecting with children and their families in person at this time of year. One of his good friends died this fall after so many months of isolation.
"He's been doing Santa for close to 40 years," Ciferri said. "He got depressed knowing he couldn't do the events this year. It got him so depressed it killed him. He couldn't go out and do Santa Claus this year. He was 81. It was heartbreaking to hear what happened to him."
When the pandemic started this spring, Ciferri knew right away that it would impact the holiday season.
"I was kind of hoping that they would have had everything settled by then with the vaccine, but that didn't happen," he said.
He already had 14 major events — a couple of parades, tree lightings — scheduled by February, but as COVID-19 spread, he knew they would likely be canceled. And one by one, they were.
"Nobody's doing anything this year," he said.
It's for the best, the 69-year-old Santa added. "This year, I'm not doing anything personally, anyway. I'm a little afraid of the virus. I don't want to catch it and you don't know who some of these kids are and if their families had the virus or has it. I've elected to stay away from it this year and a lot of very good friends of mine, some who have been doing it for 40 years, are doing the same thing…I'm going to miss it this year."
...
Robert Gresham IV and Patricia Gresham, Jacksonville
When his father, an elementary school principal, asked Robert Gresham IV to play Santa in the school's Christmas play, he initially wasn't interested.
"My first thought was, 'Man, I'm not doing that,'" Robert said. "But he twisted my arm until I said yes. I did it and I fell in love with it and I've done it every year since."
After that first play, his wife, Patricia Gresham, has joined him to play Mrs. Claus at many of the school and charity events he booked.
Three years ago, they realized there was no longer a Black Santa in the Jacksonville area and they launched a full-fledged seasonal business, Black Santa Jax.
"Historically, Jacksonville is a community that had a Black Santa, but there weren't any in our area," Patricia said. "We wanted to see if we could fill that void. This business grew out of the need. Basically, it's something that was missing in our community."
Robert added, "It's gotten bigger and bigger every year."
Initially, though, there was some pushback about his being a Black Santa.
"People were like, 'Why Santa gotta be this? Why Santa gotta be that?'" he said. "But representation matters. I think it's super important that kids see a Santa that looks like them. It's something that's needed in our community."
They're amazed to see some families from around the Southeast – Georgia, the Carolinas, even as far away as Canada – travel to visit them every Christmas.
Florida's Santas, Mrs. Clauses Adapt In The Era Of Coronavirus, MSN.com, December 15, 2020.
本文仅代表作者本人观点,与本网立场无关。欢迎大家讨论学术问题,尊重他人,禁止人身攻击和发布一切违反国家现行法律法规的内容。
About the author: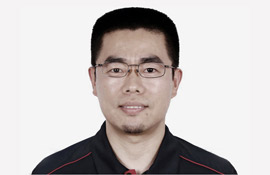 Zhang Xin is Trainer at chinadaily.com.cn. He has been with China Daily since 1988, when he graduated from Beijing Foreign Studies University. Write him at: zhangxin@chinadaily.com.cn, or raise a question for potential use in a future column.
(作者:张欣 编辑:Helen)
中国日报网英语点津版权说明:凡注明来源为"中国日报网英语点津:XXX(署名)"的原创作品,除与中国日报网签署英语点津内容授权协议的网站外,其他任何网站或单位未经允许不得非法盗链、转载和使用,违者必究。如需使用,请与010-84883561联系;凡本网注明"来源:XXX(非英语点津)"的作品,均转载自其它媒体,目的在于传播更多信息,其他媒体如需转载,请与稿件来源方联系,如产生任何问题与本网无关;本网所发布的歌曲、电影片段,版权归原作者所有,仅供学习与研究,如果侵权,请提供版权证明,以便尽快删除。