Doing it the hard way 走艰难的那条路
中国日报网 2023-05-26 14:23
分享到微信 Reader question:
Please explain this sentence, particularly "the hard way": We are used to doing it the hard way – I think you learn more the hard way.

My comments:
Here, the speaker talks about how they have been able to get things done the hard way, i.e. by tackling and overcoming all sorts of difficulties along the way. The speaker thinks it's actually better this way – they learn more from, say, making mistakes and correcting those mistakes.
They may find the experience less valuable if things have always been smooth and easy.
In other words, they're used to it and actually prefer doing it this way.
The hard way, that is.
Doing it the hard way is an idiom that means the opposite of doing it the easy way.
For example, to have everything handed to us on a platter is the easy way. To have influential parents look for jobs for us, for example, is the easy way. Some young people even wait for ma and pa to arrange dates for them. They accept arranged marriage and continue to live with their parents because they cannot afford a house of their own. When the kid is born, they leave the baby to the care of their parents.
On the surface, they have it easy. But this way of life has its drawbacks, of course. The young couple do not learn as much this way. They won't be able to grow up as quickly. In fact, they may never be able to fully grow up if they continue to leave all the chores and hardships of life to ma and pa.
Independent young people, on the other hand, prefer learning to handle their own affairs, making unavoidable mistakes along the way and learning lessons from them.
That way, they learn better and mature faster.
What do you prefer, doing it the hard way or always taking the easy way out?
While you are thinking about that, let me give you a few recent media examples of doing things the hard way:

1. The Shaymen beat Altrincham on penalties on Saturday after a dramatic last-gasp equaliser in normal time kept them in the game.
Nearly 1,000 Halifax fans were at the match at Altrincham's Moss Lane ground, and the club's supporters can now look forward to a return to the national stadium.
Around 10,000 Town fans attended the 2016 FA Trophy final, which Halifax won 1-0 against Grimsby.
FC Halifax Town chairman David Bosomworth said: "We are absolutely delighted to be returning to Wembley.
"We certainly did it the hard way and in an extremely dramatic fashion but well done to the players and the staff for showing such great fighting spirit and never giving up.
"To have had to play every round away from home and come through three penalty shoot-outs is quite remarkable.
"I'm so pleased for the players, the staff and the supporters that they will all get to have such a special and memorable day out at the home of football.
"Everyone connected with the club who was there back in 2016 will never forget what an incredible day that was and we hope to have an equally amazing visit in May."
- "We certainly did it the hard way" - Shaymen make history as they seal return to Wembley, HalifaxCourier.co.uk, April 4, 2023.

2. Earlier this month the Ohio Republican Party central committee met in a downtown Columbus ballroom. The state party has a lot to celebrate. Republicans across the country underwhelmed in 2022, but not in Ohio. The GOP carried the big-ticket statewide races, won every state supreme court race and two ballot measures.
But the prevailing mood was a cocktail of triumphalism, frustration, and fear. Plenty of committee members took a victory lap, but their boasts were often framed as a warning.
"We've changed this state from purple to red," David Glass said as he cautioned fellow members that a "right to work" platform would threaten that success.
Echoing Glass, LeeAnn Johnson, wife of Congressman Bill Johnson, described moving to a solid blue Mahoning County in 2006.
"I have watched this region turn slowly into a very red, very Republican, very pro-Trump district," she argued. "And we have had so much support from the trades from the unions and placing this plank in our platform is going to ostracize the very people that worked hard to get President Trump elected in Ohio."
On a state supreme court endorsement proposal one member insisted, "we must endorse today, we absolutely have to." Even the primary election in that race is still a year out. But other members justified the urgency by warning that Democrats – who they handily defeated about six months ago – are already campaigning.
That sense of precariousness – that Republicans' success rests on a knife's edge – may reveal a lot about the supermajority ballot measure likely headed for the August ballot.
An abortion rights amendment might go to voters in November. But rather than fight that on the merits, Republicans are doing it the hard way – forcing a debate over how to amend the constitution that threatens to alienate traditional allies and drive a wedge further into the party's Statehouse supermajority.
- Ohio Republicans choose to fight abortion amendment the hard way, OhioCapitalJournal.com, May 17, 2023.

3. The Heat had a chance to take care of business, win a clinching Game 4 at home, and soak in some sweet, sweet rest while preparing to face the Denver Nuggets in the NBA Finals next Thursday.
Instead, the Heat gave away a nine-point lead in the third quarter, allowing the Celtics to look their best en route to a season-saving blowout victory for Boston.
Now, instead of resting and preparing, the Heat have to fly to Boston to try to beat the Celtics again on Thursday. And if the Celtics can play their best for a second straight game, then the series will extend to Game 6 on Saturday.
It's a lot to think about. But Jimmy Butler doesn't really seem worried about it.
The Heat superstar was asked what he will do after a loss to avoid getting down. The answer started pretty generic ... but then got rather specific.
"Stay consistent. Do the same thing that I do, that we do, after every game," Butler said. "We are going to listen to some music. We're going to drink some beers back there. We are going to go have some wine."
Those refreshments obviously would've tasted a little bit better if the Heat were wearing Eastern Conference champs gear, but Butler stressed that there's no reason to panic.
"I don't think that you can just focus on basketball all the time. You have to be able to get away from the game a little bit. Think about it, but at the end of the day, you fall back on your habits, how consistent you're going to be," he said. "Myself and my teammates, we're going to do the same thing. We're going to smile. We're going to be in this thing together like we always are, and we are going to go get one on the road."
The victory for Boston was enough to convince some people that a history-altering comeback from a 3-0 deficit is now somewhat possible. But Butler's outlook allowed him to flip the notion of the Celtics gaining momentum from the win on its head.
"No. If anything, it will build momentum for us knowing that we have to play with a lot more energy," Butler said. "We've got to play like our backs are against the wall. But I think all year long, we've been better when we've had to do things the hard way."
- Jimmy Butler does not appear worried at all after Heat lose Game 4 to Celtics, CBSNews.com, May 24, 2023.
本文仅代表作者本人观点,与本网立场无关。欢迎大家讨论学术问题,尊重他人,禁止人身攻击和发布一切违反国家现行法律法规的内容。
About the author: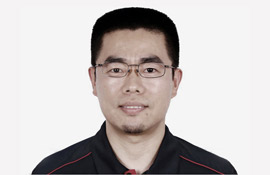 Zhang Xin is Trainer at chinadaily.com.cn. He has been with China Daily since 1988, when he graduated from Beijing Foreign Studies University. Write him at: zhangxin@chinadaily.com.cn, or raise a question for potential use in a future column.
(作者:张欣 编辑:丹妮)
中国日报网英语点津版权说明:凡注明来源为"中国日报网英语点津:XXX(署名)"的原创作品,除与中国日报网签署英语点津内容授权协议的网站外,其他任何网站或单位未经允许不得非法盗链、转载和使用,违者必究。如需使用,请与010-84883561联系;凡本网注明"来源:XXX(非英语点津)"的作品,均转载自其它媒体,目的在于传播更多信息,其他媒体如需转载,请与稿件来源方联系,如产生任何问题与本网无关;本网所发布的歌曲、电影片段,版权归原作者所有,仅供学习与研究,如果侵权,请提供版权证明,以便尽快删除。