Academy-award-winning actress and activist Charlize Theron has been named a UN Messenger of Peace. Her special focus will be on ending violence against women. From UN headquarters in New York, VOA's Margaret Besheer has more.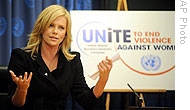 The South African actress has worked to improve the lives of impoverished women and children, especially those with HIV/AIDS, in her homeland through her foundation, the Charlize Theron Africa Outreach Project. She has also spoken out against sexual violence against women.
In choosing Theron, UN Secretary-General Ban Ki-moon said she has used her "voice, compassion and special relationship with the public to create a better world."
At UN headquarters, Theron told reporters she is humbled by the appointment. She said growing up in South Africa, where violence against women is rampant, she cannot ignore the issue.
Theron said change comes one person at a time, particularly through education.
"It starts with entering one rural community, one school at a time, and giving them the tools, the education, the understanding that raping a virgin does not cure HIV, that you cannot wash a condom and use it twice - these are things we take for granted in our everyday lives. When you are dealing with a country, especially in the rural parts of Africa, you cannot take anything for granted," said Theron.
The United Nations said, worldwide, one in five women will become a victim of rape or attempted rape during her lifetime. At least one out of every three women is likely to be beaten, forced into sex or otherwise abused in her lifetime, and more than 80 percent of trafficking victims are women.
Charlize Theron joins nine other UN Messengers of Peace, who advocate on different issues for the organization. Among them are actors George Clooney and Michael Douglas, cellist Yo-Yo Ma and Nobel Laureate Elie Wiesel.
(Source: VOA 英语点津姗姗编辑)