Federal investigators have arrested the governor of Illinois for trying to profit from his power to appoint someone to fill President-elect Barack Obama's vacated Senate seat. Governor Rod Blagojevich and a top aide also face other corruption charges.
In a stunning turn of events in Illinois politics, federal agents arrested Governor Rod Blagojevich in his home Tuesday.
U.S. Attorney Patrick Fitzgerald says investigators stepped in to end what he characterized as a corruption "crime spree" that included charges of trying to profit from the filling of President-elect Obama's U.S. Senate seat.
"The most appalling conduct Governor Blagojevich engaged in according to the complaint filed today is that he attempted to sell a Senate seat, a Senate seat he had had the sole right under Illinois to appoint to replace President-elect Obama," he said.
Fitzgerald said investigators intercepted phone calls and recorded conversations that directly implicated Blagojevich.
"The governor's own words describing the Senate seat quote 'It is a bleeping valuable thing, you just do not give it away for nothing,'" he said.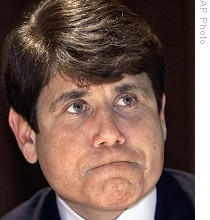 Illinois Gov. Rod Blagojevich (2007 file photo)
Blagojevich is also charged in withholding state funds in the sale of the Wrigley Field baseball park, which is owned by the Tribune Company, parent company of the Chicago Tribune newspaper. Blagojevich and his chief of staff John Harris are accused of pressuring owners of the Tribune to fire members of its editorial board in return for the release of Illinois Finance Authority funds. Those board members were critical of Blagojevich's administration and called for hisimpeachment.
"In the governor's words, 'Fire all those bleeping people, get them the bleep out of there and get us some editorial support.' Close quote. The bleeps were not bleeps," said U.S. Attorney Fitzgerald. "The defendant Harris tried to frame the message more subtly to get the message across to the Tribune that firing the editorial members would be a good thing in term of getting financing to allow the sale to go forward."
Blagojevich has denied wrongdoing. Monday, one day before he was arrested, Blagojevich responded to reporter's questions that his conversations were being recorded.
"Ain't nothing but sunshine in my life," he said. "I should say if anybody wants to tape my conversations, go right ahead, feel free to do it."
Blagojevich and Harris face charges of one count of conspiracy to commit mail and wire fraud and a count of solicitation of bribery.
Blagojevich's predecessor as Illinois governor, George Ryan, was found guilty of corruption in 2006 and is currently serving a six-and-one-half-year prison term. Illinois Senator Richard Durbin is petitioning President George Bush to commute Ryan's sentence before he leaves office in January.
impeachment:弹劾
(Source: VOA 英语点津姗姗编辑)