Barack Obama has become the 44th President of the United States, taking the oath of office on the steps of the U.S. Capitol before a crowd of more than one million people who had gathered in frigid temperatures to see the first African American become president.
Immediately after President Obama took the oath of office, a military color guard fired off a 21-gun salute as an enormous and diverse crowd cheered, waved American flags and chanted the new president's name.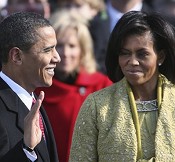 In his inaugural address, Mr. Obama said he is entering the White House at a time when the nation is in the midst of crisis.
"Our nation is at war, against a far reaching network of violence and hatred. Our economy is badly weakened, a consequence of greed and irresponsibility on the part of some, but also our collective failure to make hard choices and prepare the nation for a new age."
Mr. Obama says the state of the economy requires bold action to create new jobs and end the recession.
The 47-year-old president is the son of a black Kenyan father and a white American mother. He grew up in Hawaii and Indonesia.
Mr. Obama held out a friendly hand to those watching his address from overseas.
"And so to all the other peoples and governments who are watching today, from the grandest capitals to the small village where my father was born, know that America is a friend of each nation and every man, woman and child who seeks a future of peace and dignity and we are ready to lead once more," Mr. Obama said.
President Obama called on all Americans to accept personal responsibility for trying to solve the challenging tasks confronting the nation.
"What is required of us now is a new era of responsibility, a recognition, on the part of every American, that we have duties to ourselves, our nation and the world. Duties that we do not grudgingly accept, but rather seize gladly, firm in the knowledge that there is nothing so satisfying to the spirit, so defining of our character, than giving our all to a difficult task."
Many African American families attended the inauguration of the country's first black president.
One woman from Pennsylvania said she was overwhelmed to be taking part in the historic event.
"I could not be happier or more proud. I am an 81-year-old black lady who has seen an awful lot in my lifetime. And never, in all of my years, did I think that this day would come and one of us would be in the White House."
Polls show many Americans are optimistic about the nation's future now that President Obama has been sworn in. Laverne Feaster, who traveled to the inauguration from Little Rock, Arkansas, says the opportunities with the new administration are endless.
"This country recognizes with the president that we have that all of us can be anything we want to be. It is not just a few. We do not have to have rich, poor, women. We can have everybody to be what they want to be."
Presidential historian Allan Lichtman says President Obama will bring major changes, in both style and substance, to the White House.
"Barack Obama represents and celebrates not only the diversity of America, but the diversity of a knit-together global world. In addition, I think, so far Barack Obama has indicated that he is likely to take American foreign policy in new directions as part of this new political era."
President Obama, a Democrat, campaigned on a theme of change, inspiring millions of people both at home and abroad.
Mr. Obama's inauguration brings to an end 8 years of Republican rule under George Bush.
in the midst of: 在……之中
grudgingly: displaying or reflecting reluctance or unwillingness(勉强地)
knit-together:紧密结合的
(Source: VOA 英语点津编辑)