United Nations Secretary-General Ban Ki-moon and former U.S. President Bill Clinton are in Haiti to highlight the importance of economic development to that country's stability. VOA's Margaret Besheer is traveling with the delegation and files this report from Port-au-Prince.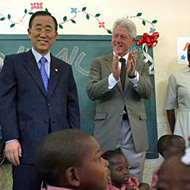 The U.N. chief and the former U.S. president arrived in Port-au-Prince on Monday morning. They went directly to Cite Soleil - once Haiti's most violence-wracked slum. Today its residents are still caught in the grip of deep poverty but begins that once control the area no longer due.
The first stop was to a school feeding program where young children in cheerful red uniforms and little girls with matching red ribbons in their hair sang and played in the school yard. Inside one of the buildings, other children were eating their lunch of rice, beans and meat.
80 percent of Haiti's population lives on less than $2 a day, making it the 14th poorest country in the world and the poorest in the Western Hemisphere.
Programs such as this World Food Program initiative to fight malnutrition are vital. Last year, it fed 2.5 million children across the country. This year, WFP hopes to reach nearly 3 million. But the program is in jeopardy because the funding for it could fall short.
Mr. Ban and Mr. Clinton also hopes to stress the importance of education as a way out of poverty during their visit.
They went to the neighborhood of Turgeau, where they visited the Haitian Education and Leadership Program. This unique program awards scholarships to Haiti's best and brightest high school students, helping them to go on to careers as doctors, engineers, agronomists, computer scientists and other professions vital to Haiti's prosperity.
The secretary-general was very impressed by the students' willingness to stay on in Haiti after graduation and said they are the "hope of this country."
Mr. Ban, who is from South Korea, added that he felt a personal connection to the struggles of Haiti, saying it reminds him of his own country's struggles after the Korean War. But, he said, Korea has become an economic success story because of its educated workforce.
"I'm very proud to have been part of that process. Now as, serving as secretary-general of the United Nations, I feel immense responsibility to do more for those people, for those poor people. I'm working as a voice of so many voiceless people and defender of so many defenseless people. You are one of the voiceless people, you are one of the poorest people."
He said the good markets and stable countries nearby present an important opportunity for Haiti, but one that is not unlimited, and that it must overcome its difficulties and emerge as a stable, democratic and prosperous country.
President Clinton agreed and added that 200 years ago, Haiti was the richest island in all of the Caribbean region. "Because of the natural resources, because of what God has put into the land, you can be again because of the resources in your mind and your heart. That is what you have been telling us today."
In April, international donors will meet in Washington D.C.to help Haiti continue on this path. Butin light of the global financial crisis, it is unclear how strong that financial help will be.
Next month is also crucial for Haiti as it is scheduled to hold senatorial elections. But the country's Provisional Electoral Council has barred candidates from the party of former President Jean Bertrand Aristide.
in jeopardy: 处于危险中,处境艰难
fall short:to prove insufficient; be lacking(缺乏,不符合,达不到目标)
in light of:taking into account; because of; considering(按照,根据)
bar: to prevent or hinder(禁止,阻挡)
(Source: VOA 英语点津编辑)