They were great athletes in basketball and golf, and they started sports organizations for women.
VOICE ONE:
I'm Steve Ember.
VOICE TWO:
And I'm Faith Lapidus with PEOPLE IN AMERICA in VOA Special English. Today we tell about two women who helped change the world of sports: golfer Betty Jameson and basketball coach Kay Yow. Both women were founders of women's sports organizations.
VOICE ONE: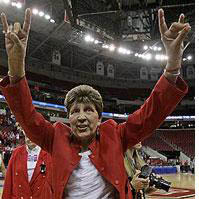 Sandra Kay Yow was born in 1942 in Gibsonville, North Carolina. She developed a love for basketball from her parents, Hilton and Lib Yow. She attended East Carolina University and earned an English degree. She went on to become an English teacher, librarian and girls' basketball coach at Jay Allen High School in High Point, North Carolina.
In 1971, she began coaching college sports. She became the women's athletics coordinator and women's basketball coach at Elon College in North Carolina. Four years later, North Carolina State University hired her as the school's first full-time women's basketball coach and athletics coordinator. She also coached women's volleyball and softball.
Kay Yow had become a very successful basketball coach. In 1981 she began coaching women's national teams. She coached the United States team in the World University Games. The team finished second, winning a silver medal. 5 years later she led the United States women's basketball team in the Goodwill Games and FIBA World Championship. Both teams won first place and received gold medals.
In 1981, Kay Yow, along with others, founded the Women's Basketball Coaches Association. She also served as president of the group. The WBCA was established to unite coaches at all levels of the game and to develop basketball as a sport for women and girls.
(MUSIC)
VOICE TWO:
In 1987, Kay Yow learned she had breast cancer. She did not let her health problems interfere with her responsibilities as coach and leader.One of her famous expressions was: "When life kicks you, let it kick you forward." Just 10 month after learning she had cancer she coached the United States women's basketball team to an Olympic gold medal in Seoul, Korea in 1988.
Kay Yow has been recognized for her service to the game of basketball. She was named to the Naismith Memorial Basketball Hall of Fame, the Women's Basketball Hall of Fame and the Fellowship of Christian Athletes Hall of Fame among others.
Coach Yow also became well-known for her work in cancer awareness. In two thousand seven she established the Kay Yow/WBCA Cancer Fund in partnership with the V Foundation for Cancer Research.The V Foundation was named for Yow's friend Jimmy Valvano. He was the former coach of North Carolina State University men's basketball team. He died of cancer in 1993. That same year Yow lost her mother, Lib Yow, to breast cancer.
(MUSIC)
VOICE ONE:
Kay Yow died in 2009. She was 66 years old. Earlier that month, she had announced that she would not return to coaching that season. She had missed 4 games because of extreme lack of physical energy.
She had fought sickness from cancer for more than 20 years. Her funeral was held in Cary, North Carolina. Hundreds of people attended, including coaches and athletes from NC State and other teams.
During the ceremony, mourners watched a video message Yow had recorded for the funeral.She thanked them for their support, and she spoke mostly of her strong religious beliefs which helped her through difficult times, including her battle with cancer.
She also read a poem she wrote in 1976 called "My Thoughts on Sport." She talked about the importance of learning about life through sports. She said sports stretched her to her limits and sometimes she wanted to quit. She said winning was more than the score on the board.
VOICE TWO:
Kay Yow touched the hearts and lives of many people. She was known as a great coach, teacher and friend. She expressed love and kindness toward people including strangers. Immediately after her death, Kay Yow was honored at many college basketball games, both women's and men's.
The Women's Basketball Coaches Association gave permission for teams to wear the color pink to honor Coach Yow's work in educating people about breast cancer.Pink is commonly used by groups that try to raise money to search for a cure for the disease.
People said many kind words about Kay Yow. They remembered her as a woman of great emotional and religious strength. They spoke of how she fought extreme sickness in a brave and graceful way.
Duke University men's basketball head coach Mike Krzyzewski said:"God bless Kay. A fighter to the end."
(MUSIC)
VOICE ONE:
Betty Jameson was another woman important in the world of sports. In 1950, she and twelve other women founded the Ladies Professional Golf Association. They were involved in all areas of the sport. They played, organized golf tournaments, established rules for the group and supervised membership.The LPGA gained the attention of many news organizations.They considered Jameson and others to be beautiful women.Photographers liked taking pictures of them and began calling them the "glamour girls."
(MUSIC)
VOICE TWO: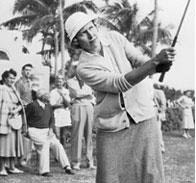 Elizabeth Jameson was born in 1919 in Norman, Oklahoma. She grew up in Dallas, Texas. She began playing golf at a very young age. She was very good in the sport and won many competitions. In 1932, Betty Jameson won the Texas Publinx competition. She was just 13 years old.Two years later, she won the Southern Championship.
In both 1939 and 1940, Jameson won the United States Amateur competition. Two years later she won the Western Open for the first of her three major titles. She completed her non-professional career with 14 major victories.
VOICE ONE:
Betty Jameson began playing professional golf in 1945. She won many professional titles, including the United States Women's Open in 1947. Her score was 295. She was the first female golfer to score lower than 300 in a 72 hole tournament. Years later, she said it was the best moment of her career.She finished her career in the Ladies Professional Golf Association with thirteen major victories.
That may not seem like many wins compared to women's golf today. However, during that time golf was considered a sport for men. Women were not treated the same as men in sports. The LPGA fought to change that.The organization was successful in making women's golf recognized as a serious professional sport.
VOICE TWO:
Betty Jameson was officially accepted into the Hall Fame of Women's Golf in 1951.She became one of six inaugural members of the LPGA Tour Hall of Fame in 1967. The LPGA chose to recognize 1951 as the date of her acceptance. She was also named to the World Golf Hall of Fame and the Women's Sport Foundation Hall of Fame.
In 2000, the LPGA celebrated its 50th anniversary. During the ceremony Betty Jameson was recognized as one of the organization's top fifty players and teachers. Jameson and the 12 other LPGA founders were honored with the Commissioner's Award. They were recognized for their part in furthering the cause of women's golf.
Betty Jameson died in 2009. She was 89 years old. In her later years, she was forced to live a simple life because of lack of money. She said the situation caused her to learn through suffering. She said: "Just like in golf, you always learn more when you lose than when you win."
(MUSIC)
VOICE ONE:
This program was written and produced by Lawan Davis. I'm Steve Ember.
VOICE TWO:
And I'm Faith Lapidus. You can learn more about famous Americans and download podcasts of our programs on our Web site, voaspecialenglish.com. Join us again next week for PEOPLE IN AMERICA in VOA Special English.
non-professional:非专业性的,业余的
Related stories:
Remembering three who made their mark
One of the most famous jazz groups in America
The rise of a folk hero who landed on a river
(Source;VOA 英语点津编辑)