President Barack Obama says the United States should depend more on so-called clean forms of energy, like wind and solar, and less on oil. The president promoted his alternative energy plan on an Earth Day visit to the central state of Iowa.
On a day designated for promoting environmental well-being, President Obama said the U.S. should stop being the world's leading importer of oil, and become the leading exporter of clean energy.
"So on this Earth Day, it is time for us to lay a new foundation for economic growth by beginning a new era of energy exploration in America," said President Obama.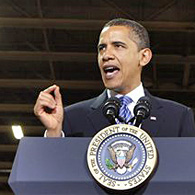 Mr. Obama promoted his environmental agenda on a visit to the city of Newton, Iowa. The Maytag appliance factory in Newton closed in 2007, leaving hundreds of people unemployed. But with government help, a new company took over the factory and began making equipment for wind power, putting about 140 people to work.
The president toured the factory and promoted his plans to channel more investments to companies, like the one in Newton, that are involved in producing alternatives to fossil fuels.
Mr. Obama says his energy policy will eventually create millions of jobs in producing clean energy.
The president also says he will meet next week with representatives of the world's major economies to discuss ways to address the energy crisis. They will be in Washington for a forum on energy and climate.
"Truth is, United States has been slow to participate in this kind of a process, working with other nations, but those days are over now. We are ready to engage, and we are asking other nations to join us in tackling this challenge together."
While Mr. Obama was in Iowa, his administration was showcasing American-made alternative-fuel vehicles, which could be added to the White House fleet. Among them was an electricity-powered van, which might one day be used to deliver the nation's mail.
alternative energy:可替代能源
clean energy:清洁能源
channel:to direct toward or into some particular course(引导)
fossil fuel:化石燃料,又称化石能源,包括煤炭、石油、天然气等在特定地质条件下形成的沉积矿石。
showcase: to show to best advantage(展示)
Washington restaurant sets an example as a green business
Govt requires green procurement
Bilateral climate change talks urged
(Source: VOA 英语点津编辑)