The global air industry and Asia's carriers, in particular, will see industry losses increase sharply this year because of the global recession this according to according to the latest report from the International Air Transport Association (IATA). Although the immediate outlook is bleak, industry analysts are optimistic for the future, especially for growth in the China and India markets.
The bleak financial assessment for the global air travel industry was presented during the annual general meeting of the International Air Transport Association, in Malaysia.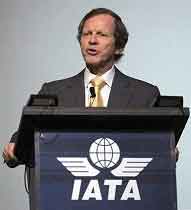 In its latest report, the IATA forecast forecast the industry's losses to climb to $9-billion - double its earlier forecasts - with Asia Pacific accounting for a third of the losses.
European carriers are forecast for losses of almost $2 billion, with North American carriers expected to show a loss of $1 billion, much lower than the more than $5-billion loss in 2008.
The downturn in future earnings came as IATA revised the global industry losses for 2008 to more than $10 billion.
IATA Director General Giovanni Bisignani is pessimistic and says the airline industry is "in survival mode", calling on governments and industry to make major changes.
Bisignani is calling on the industry to "resize and reshape", as companies slashed corporate travel budgets and consumers are reluctant to spend in the face of the global recession.
John Koldowski, a communications executive with the Pacific Asia Travel Association, says, although there has been some sign of improvement, the first quarter of 2009 was "particularly tough" for the travel industry.
Koldowski says the short-term outlook is likely to be a tough one for the region's travel industry.
"I think in reality is its going to be a long, long time if we, in fact, we ever get back to the sorts of growth rates that we have experienced over the last half decade or more," he said. "That is quite some way off. It is going to be slow tough incremental growth probably for another two to three quarters."
IATA says Asia-Pacific carriers are expected to have losses of more than $3 billion, with the downturn in the India and China markets following the slide in export-driven demand. The region's carriers lost almost $4 billion in 2008.
Peter Harbison, chairman of the Sydney-based Center for Asia Pacific Aviation says the economic crisis has translated into 30 percent declines in business and first class traffic - hitting hard the bottom line of the air carriers.
"If you think in terms of a 25-percent reduction in premium traffic, you are probably looking at, in terms of total airline operating revenue, as much as 30 percent of gross," he said.
But Harbison says it is unlikely there will be any significant consolidation in the Asia-Pacific region, as it "lumbers along with government support".
IATA says air carriers in both India and China had reported heavy financial losses, because of the global economic downturn and contraction of global export markets.
lumber: to move clumsily or heavily, esp. from great or ponderous bulk(笨拙地移动)
Airline industry faces $4.7 billion in losses
US airlines go slow on China routes
(Source: VOA 英语点津编辑)