The White House vigorously denied on Monday any plans to raise taxes on middle-income Americans to pay for health care reform or combat the massive federal budget deficit. The denials come one day after two top members of President Barack Obama's economic team declined to rule out tax hikes.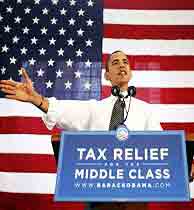 Shielding the middle class from higher taxes was one of then-candidate Obama's most-repeated refrains last year:
"Let me be absolutely clear: If you are a family making less than $250,000 a year, you will not see your taxes go up," he said.
But in separate appearances on U.S. television on Sunday, Treasury Secretary Timothy Geithner and top Obama economic advisor Larry Summers refused to rule out future tax increases -- including some that might target the middle class. Summers said,"It is never a good idea to absolutely rule things out."
A day later, White House Press Secretary Robert Gibbs spent more than half of a 45-minute press briefing denying any change in the administration's thinking on taxes.
"Let me be precise: The president's clear commitment is not to raise taxes on those making less than $250,000 a year," he said.
Again and again, Gibbs was asked whether a "clear commitment" constitutes an absolute presidential pledge not to raise taxes on middle-income earners.
"The president made a commitment during the campaign. He is clear about that commitment. He is going to keep it. I do not know how much more clear about the commitment I can be," said Gibbs.
Throughout last year's presidential race, Republicans maintained that Barack Obama's ambitious agenda to restructure America's economy would require massive tax increases or incur unsustainable debt that would bankrupt the nation. Months after enacting an $800 billion stimulus package, Congress is now struggling to craft a health care reform bill that will not add to America's record federal budget deficit of more than $ 1 trillion.
Press Secretary Gibbs said President Obama's first goal is to see the U.S. economy emerge from the deepest and longest recession of the post-World War II era. He reminded reporters that the Obama record to date is one of tax cuts.
"Within the very first month of the president talking office, 95 percent of Americans received a tax cut. That is everybody in the middle class," he said.
Recent public opinion polls show a dip in President Obama's approval ratings, attributed to concerns about health care reform and the slow pace of economic recovery. But last week brought a flourish of upbeat economic news in housing, employment and economic growth.
That trend continued Monday, with an index showing the smallest contraction in U.S. manufacturing in 18 months. Based on July's performance, some economists say the August reading could show a modest expansion of America's battered manufacturing sector.
Troubled U.S. automaker Ford reported its first sales increase in nearly two years last month. The sales boost came at the start of a U.S. government-funded billion dollar program that subsidizes the trade-in of old, fuel-guzzling vehicles for newer, more efficient ones.
An estimated quarter-of-a-million Americans have used the program to buy new cars. The Obama administration is urging Congress to approve an additional $2 billion to keep the program running for an additional month.
rule out: 排除
refrain: 一再重复的话
briefing: 简报会
incur: 招致,带来
dip: 下降
upbeat: 复苏,上升,兴旺
trade-in: 旧换新,贴换
Obama: Stimulus helping 'put the brakes on recession' 
US Treasury Secretary: Economy improving, needs more help
US economy slowly improving, challenges remain
Obama: Signs of economic progress
(Source: VOA 英语点津编辑)