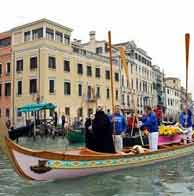 The city of Venice, Italy, with its famous waterways and beautiful buildings is losing official residents at a rapid rate causing some people to hold a mock funeral on Saturday. But city officials say millions of tourists still flock to the famous city and there are still thousands of "unofficial" residents and there are efforts underway to bring people back.
Venice is approaching the dread status of living museum, with a population now below 60,000. Residents are being forced out of the historic center as they search for cheaper housing and easier living conditions on the mainland.
Real Venetians have become scarce and many say the city is fast becoming nothing but a tourist destination. A group of Venetian residents concerned about this marked the city's population decline with a mock funeral procession.
Gondolas and motorboats took part in the event along Venice's Grand Canal. The leading gondola carried a bright pink coffin symbolizing the death of the city. On other boats, black-clad residents mourned.
Matteo Secchi, one of the organizers of the funeral for the demographic decline, says their message is clear.
"We want to restart Venice in a new concept of Venice life," said Secchi. "We want to find new inhabitants of Venice because Venice is going to be a Disneyland in a few years. A city needs to be visited but also lived."
Fears have been mounting that Venice could, in a matter of years, belong only to tourists 20 million visit the city every year.
City officals also point out that there are thousands of unofficial residents of Venice: students and island inhabitants who don't officially register.
But City Councilor Mara Rumiz says authorities are aware they cannot ignore the problem of the shrinking population any longer.
She says it's clear that two problems need to be radically addressed, jobs and home. What must be avoided at all costs is that this city becomes nothing but a tourist destination.
The funeral for the demographic decline took place at the same time as an international study on the origins of ancient Venetians. For the next few weeks, Venetian males are giving saliva swabs to try and determine where the natives of the area came from. Venice is the center of the larger region of Veneto.
The hope of all those who took part in both the DNA tests and the funeral procession is that a databank will be created of the real Venetian, who risks becoming extinct.
swab: a small piece of cotton, gauze, etc., for use in applying medication, cleansing a wound, or obtaining a specimen of a secretion, etc. 药签
Declining Venice population leads to city's 'funeral'
(Source: VOA 英语点津编辑)