Chelsea Dominate 切尔西独霸赛场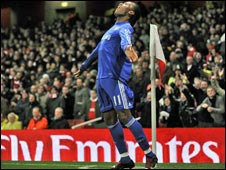 Chelsea's domination of the Premier League continues unabated 一如既往 following their 3-0 victory over Arsenal on Sunday.
Two goals from Didier Drogba and an Arsenal own goal 乌龙球 keep Chelsea at the top of the league with a five-point lead and a confidence that makes them the bookies' favourites 博彩公司看中的热门球队 to win the title this season.
Arsenal, on the other hand, are struggling to keep their title ambitions alive after losing two games in quick succession 接二连三.
I do not think it is over. We are fighters and we have to show that in the next game.
Arsene Wenger, Arsenal manager
But the Gunners' 枪手 manager Arsene Wenger refused to admit defeat in the battle to win the Premier League for the first time since 2004.
"We are fighters and we have to show that in the next game," said Wenger.
"We are still in a very strong position. Chelsea can drop points 丢分, I am convinced of that," he continued.
Some of the pressure on the Arsenal manager has begun to tell, however, as his convoluted 费解的,复杂的 sense of logic and expectation indicates.
"The problem we have to face at the moment is people will not believe in us, so we have to make sure that lack of belief does not diminish 减少 our own belief," stated Wenger.
This rather confusing statement means simply that Arsenal must not fall into a vicious circle 恶性循环 of losing the confidence of their fans, and losing confidence in themselves as a consequence.
I think we will still be playing against Ryan Giggs in 2015.
Avram Grant, Portsmouth manager
Elsewhere in the Premier League Manchester United kept 保持 themselves in contention 竞争 with a 4-1 victory over Portsmouth.
That game featured a hat-trick 帽子戏法 for Wayne Rooney but will probably be remembered as the game in which Ryan Giggs scored his 100th goal in the Premier League one day before his 36th birthday.
It is very unusual for a top-flight 一流的 footballer's career to continue for such a long time, with most retiring in their early thirties.
Giggs, who joined United when he was just 14, has played in more games than any other player in the team, but manager Sir Alex Ferguson believes he still has two more years of competitive football left in him.
Even the Portsmouth manager Avram Grant heaped praise 大加赞扬 on Giggs after the match.
"I think we will still be playing against Ryan Giggs in 2015," said Grant.
"He doesn't look 36 and you would never guess he was that old. He is such a great player, so clever and a real example to all others," he added.