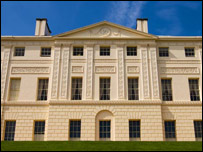 Kenwood House stands in Hampstead Heath
John: Hello, welcome along to Hampstead, one of the many villages of London. And we are here today for this edition of On The Town from BBC Learning English. I'm John and as always I'm here with Jean. Hello Jean.
Jean: Hi there John. Now I need to know one thing: how can we be here in Hampstead village when we are still in London town ?
John: Well London was originally made out of villages, which then grew together.
Jean: So here we are standing in Hampstead, which looks like a British village, but is actually part of London. John他说呢伦敦早先是由许多的城镇组成的,而Hampstead 就是这些城镇中的一个. Ok. Now there are lots of different parts of Hampstead, aren't there John? What are its main features? 那么Hampstead 都有哪些特别的景色呢.
John: Well there's the heath - Hampstead Heath.
Jean: Heath 就是一大片绿地野地的意思。Hampstead Heath.
John: There's a large old house called Kenwood House which you can visit.
Jean: Kenwood House. 是一座古老的英国传统建筑..
John: Two small theatres…
Jean: 还有两座小剧院…
John: Some outdoor ponds where you can swim in the summer…
Jean: 还有一些夏天可以来游泳的天然池塘。
John: Lots of ancient pubs...
Jean: 很多的古老英国酒馆..
John: English tea rooms...
Jean: 还有英式的茶楼…
John: …and there's the home of Boy George a famous British pop singer.
Jean: ...是的 Hampstead 这里还居住着一位英国著名流行歌星. Boy George.
John: And from where we're standing there are some wonderful views over the city of London.
Jean: 在这里我们可以看到伦敦的城市远景.
John: So this is where we start our programme - with a wonderful view over the city of London high up here on Hampstead Heath. Let's have a chat with some of the people here about what they think of the view.
Insert
I love the views; the view from Parliament Hill is fantastic.
It's just a view of London you don't see anywhere else in the city, it's amazing.
They're incredible, what's so nice about it is that you can kind of go over a rise and see much more than you thought you would. And its nice to kind of see the difference between where you are on the Heath and where the city begins. Its something really special.
I think they're fantastic, you get all sorts of views you get the city, you get something like the forest, the hills, its great.
It's the jungle aspect, on the west side of the Heath its kind of more jungle-y, than the east side, so that part is surprising actually, but its nice. It's a good spot to look at everything.
Absolutely stunning, its probably the most special place in London, kind of a real retreat and a bit of a sanctuary from the everyday. It's a phenomenal view, you can see everything and it kind of goes on forever.
Jean: Great. 刚才我们听到好几位这里的英国人给我们讲他们对这里的感受..
John: Well Jean lets take a small walk and move away from Hampstead Heath.
Jean: 让我们到Hampstead的中心地区去看看吧. We're going to head for the centre of Hampstead Village itself.
John: So here in the centre of Hampstead what can we see, there are some clothes shops, some pretty expensive clothes shops, also quite a big bookshop, I can see one of the theatres, and the streets are lined with cafes, bars, and restaurants, serving food from all over the world. OK well, hope you've enjoyed today's programme. We've been on Hampstead Heath, seen Boy George's house, had a good look around, and asked people what they thought of it.
Jean: 如果你到伦敦来可一定要到Hampstead这儿来看看。跳上伦敦地铁的北部线路就到了. Happy exploring!
John: Bye for now. Come on Jean. Let's try one of those nice looking cafés!
Jean: Oh yes, a lovely nice cup of tea.