Easy access? 出入方便吗?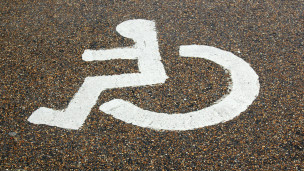 Vocabulary: disability 词汇: 残疾
The integration of disabled people in society has increased in the last few decades. The Paralympic movement celebrates extraordinary physical achievement. And businesses are starting to cater for the needs of disabled people.
But is progress fast enough? A recent survey by the British government has investigated access for disabled people on the high street.
More than 30,000 shops and restaurants were inspected in what has been described as the largest-ever audit of this kind in the UK. Many businesses didn't make the cut: 20% of shops had no ramps for wheelchairs, 85% of retailers had no hearing loops for customers with hearing impairments and 75% of restaurants didn't cater for those with visual impairments. They should have menus with larger print available.
The Minister for Disabled People, Mark Harper, who commissioned the survey, said: "Effectively these businesses are turning away potential customers. This isn't just about doing what's right. Businesses are missing a trick by not doing more to tap into this market."
And the figures prove this point. There are 12 million people in Britain with disabilities, and they have family and friends. All of them have an estimated spending power of £200bn!
Businesses which exclude disabled customers might not just be losing money but also be breaching the law. In Britain, the Equality Act of 2010 makes it mandatory for organisations to make reasonable adjustments for disabled people.
Karl Nicholson, a Paralympic athlete and wheelchair user, says that things have got better. He's happily surprised when he goes to buy clothes and finds a changing room he has access to. He wishes it would be the norm for all retailers. "It would be fantastic!" he says.
It might be good for some businesses to remember an old saying about how to succeed in a competitive market: "The customer is always right."