Fashion victim 时装奴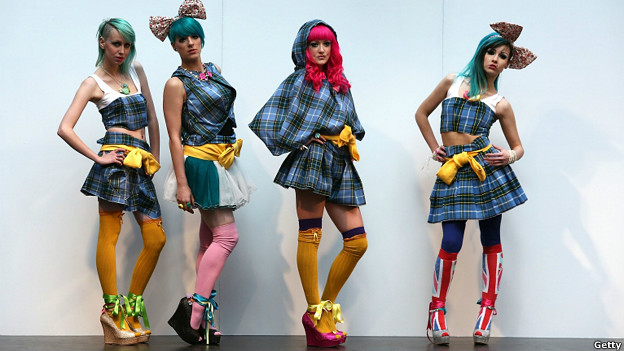 Fashion victim 时装努
今日小常识
Designers come from all over the UK and other parts of the world including Italy, Spain, Norway, Poland, Bulgaria, Uruguay and Sri Lanka to present their work at Alternative Fashion Week. There's an emphasis on original and recycled textiles as well as environmental awareness and ethical sourcing.
来自英国和世界其他地区,包括意大利、西班牙、挪威、波兰、保加利亚、乌拉圭和斯里兰卡的设计师在替代时装周上展示他们的装作设计,强调的是原创和回收纺织品以及环保意识。

如果形容一个人是 A fashion victim 那么就意味着这个人是个被流行牵着鼻子走的人,时装奴。
例句
Look at Dave. He's wearing ridiculous skinny jeans and a leather jacket even though he's 50. He's such a fashion victim.
Does this purple Mohican suit me? I know, I know, I'm a real fashion victim.
I went for a drink last night in a trendy bar and everyone was wearing these huge glasses. They thought they were really cool but they looked absurd – real fashion victims.
请注意
另一个同流行有关的词语是 fashionista. A fashionista 就是撰写有关时装评论与报导的人。
I watched an interview on the news last night with this fashionista talking about how certain styles have always been trendy.