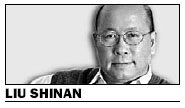 Last Thursday, China Daily reported a bizarre story about the owner of a cheap automobile who "spent a fortune on a lucky license plate" in Foshan, Guangdong province.
The man bought the license plate with the number of 88888 for his 40,000-yuan ($5,882) compact car. The report did not reveal how much the man paid for the plate but it was estimated at more than 200,000 yuan ($29,412), according to local sources.
Figure eight, pronounced as "ba" in Chinese, is believed to be a lucky number because it is homophonic to the Chinese character Fa, which means getting rich. Five eights definitely symbolize tons of wealth.
However, it is only wishful thinking. Things evolve along natural or logical courses or are occasionally diverted by some fortuity but will never be affected by some numerical sphinx that sounds pleasant to the ears.
The belief that numbers will bring good or bad luck simply because of their homophonic pronunciation is even more stupid than superstition. Anyhow, superstition is based on some telling reasoning. For instance, nine was thought to represent the highest level in Chinese ancient mythology. That is reasonable, because one, two and three represent good, better and best respectively; triple-three, or nine, is naturally the highest. Ancient Chinese believed that heaven had nine levels.
The origin of the idea that figure eight stands for good luck also reveals its absurdity. Number eight was never regarded as representing good luck in the annals of Chinese superstition. It was only in the early 1980s that some Guangdong locals began to favor it as an auspicious symbol because ba and fa are homophones in the local dialect and that time happened to herald Chinese people's awakening to the justification of pursuing wealth.
Ironically, many people who had ridiculed the idea also began to believe it later on. It has since become popular across the country. Even some government departments accepted the theory. For example, the traffic and telecommunications authorities auctioned "lucky numbers" at exotically high prices. Beijing chose eight o'clock eight minutes pm on the eighth day of the eighth month of 2008 as the opening day of the Beijing Olympic Games, though the authorities denied the assumption that the timing was made out of the eight-standing-for-luck theory.
In contrast to eight, four, pronounced as si, is thought to be unlucky because another character homophonic to it means death. This phenomenon caused many people to shun the number in their daily lives. For instance, phone numbers involving digit four have to be sold at low prices.
This is also ridiculous. There has never been statistics that cars with four in license numbers have a higher road accident rates or those with eight on the plate have lower rates. One of my home phone numbers had two fours and my personal ID number ends in 14, which sounds like "want to die," but I never came upon any serious accidents.
A real incident that happened two years ago in Chengdu, Sichuan province, contradicted the number-luck theory. A man quarreled with his wife and threatened to commit suicide by saying "wo qu si" (I'm going to die"). Later he used the phrase's homophonic figures 574 in his lottery attempt and won 8 million yuan ($1.18 million).
Isn't this an amusing rebuttal of the absurd theory?
E-mail: liushinan@hotmail.com
About the author:
刘式南 高级编辑。1968年毕业于武汉华中师范学院(现华中师范大学)英文系。1982年毕业于北京体育学院(现北京体育大学)研究生院体育情报专业。1982年进入中国日报社,先后担任体育记者、时政记者、国际新闻编辑、要闻版责任编辑、发稿部主任、《上海英文星报》总编辑、《中国商业周刊》总编辑等职。现任《中国日报》总编辑助理及专栏作家。1997年获国务院"特殊贡献专家政府津贴"。2000年被中华全国新闻工作者协会授予"全国百佳新闻工作者"称号。2006年获中国新闻奖二等奖(编辑)。