情人节为什么要送花
[ 2008-02-13 15:01 ]
又是一年情人节。人们习惯在这一天送花来表示爱意。那么你知道为什么要送花吗?这一习俗又是从何时开始的呢?就让下面这篇小文章来告诉你吧。
Most of the items linked to Valentine's Day came from old-fashioned customs that used lace handkerchiefs and floral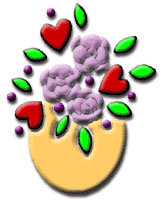 bouquets to pass on non-verbal messages.
When the custom went out of style for everyday use, the original meaning was lost and eventually they became part of the Valentine's Day tradition.
Giving flowers dates back to the 1700s when Charles II of Sweden introduced the Persian custom of "the language of flowers" to Europe. Books about the meanings of particular flowers were published, and entire conversations could be carried out using only a bouquet of flowers.
The rose has become the traditional Valentine's Day flower. As it has always been a popular flower, the meaning of the red rose is still well known as the flower of passion and love. The red rose is also the favorite flower of Venus, the goddess of love, which helped give the rose its symbolic meaning.
Lace
Centuries ago, a woman would drop her handkerchief in front of the man she liked. This was a form of encouragement to him, and if he picked it up for her an introduction could be made. Lace has always been part of women's handkerchiefs, and it has since been linked to romance.
non-verbal: 不用言辞表达的
out of style: 过时
(来源:coolquiz.com 英语点津 Annabel 编辑)
我想了解更多 趣味百科知识