为什么吸烟会上瘾?
[ 2008-05-28 16:33 ]
吸烟有害健康。这是地球人都知道的道理,可还是有那么多人对其欲罢不能,怎么放也放不下。到底香烟里面有什么秘密武器能把人给迷成这样呢?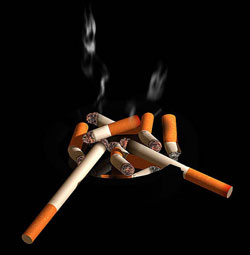 Cigarette smoking produces a rapid distribution of nicotine (尼古丁) to the brain. Nicotine is absorbed both through the skin lining of the mouth and nose and by inhaling (吸入) smoke into the lungs. Drug levels peak within 10 seconds of inhalation. The acute effects of nicotine dissipate in a few minutes, making it necessary to smoke frequently throughout the day to maintain the drug's pleasurable effects and prevent withdrawal. A typical smoker will take 10 puffs on a cigarette over the 5-minute period that a cigarette is lit. Therefore, a person who smokes about 1-1/2 packs (30 cigarettes) a day, gets 300 "hits" of nicotine to the brain each day. These factors contribute considerably to nicotine's highly addictive nature.
Cigar and pipe smokers, on the other hand, typically do not inhale smoke, so nicotine is absorbed more slowly through the mucosal membranes (黏膜) of their mouths. The nicotine in smokeless tobacco is absorbed the same way.
Recent research details how nicotine activates a key brain chemical, dopamine (多巴胺), involved in mediating the desire to consume drugs. Research has also shown that nicotine increases the levels of dopamine in key parts of the brain that regulate feelings of pleasure.
Scientific research is also beginning to show that nicotine may not be the only psychoactive ingredient in tobacco. Using advanced neuroimaging technology, scientists can see the dramatic effect of cigarette smoking on the brain. Scientists are finding smokers have a marked decrease in the levels of monoamineoxidase (MAO单胺氧化酶), an important enzyme (酶) that is responsible for breaking down dopamine. This decrease in the level of MAO then results in higher dopamine levels. Therefore, people may continue to smoke in order to sustain high dopamine levels in their bodies. 
(来源:www.hc-sc.gc.ca 英语点津 Helen 编辑)
我要了解更多趣味百科知识