还在一边打电话一边开车吗?快把电话挂了吧。不是怕警察开罚单,只是这种行为真的很危险。有多危险?看看下面这个研究就知道了。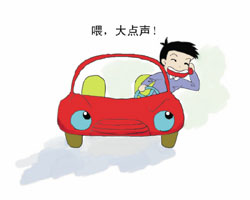 Why is driving while talking on a cellphone so dangerous? American researchers have shown that language interferes with visual tasks and why speaking is more taxing on the brain than listening.
"It's really an attention problem, not really about holding the phone in your hand," said Dr. Amit Almor, an associate professor of psychology at the University of South Carolina.
Almor and his colleague Tim Boiteau, who measured attention levels in 94 people, found that talking or preparing to speak was four times more distracting than listening.
"People can tune in or out as needed when listening," said Almor.
In the studies the participants were asked to perform visual tasks such as tracking a fast-moving target across a computer screen with a mouse, while listening to pre-recorded narratives and then responding. The voice would also shift around the room, either front, back or side to side.
The research, published in the journal "Experimental Psychology," showed visual tasks were completed more easily when voices came from the front, though the effect was not as dramatic as the difference between listening and speaking.
"When the voice came from the front the interference was minimized," said Almor, suggesting that people find it easier to have everything that requires our attention occupying the same space.
The experiment was repeated using 20 pairs of friends involved in live conversations and even stronger results are expected when they are compiled this summer, Almor said.
"I suspect that the greater the urge to speak, the greater the distraction from the visual task."
Almor also explained that when applied to the visual task of driving, the results show that simply using hand-free devices are not very helpful.
"This isn't getting through to many legislators," he said, adding that with driving talking on the phone is also different from talking to someone in the car.
"When you have someone sitting next to you they are acting as an extra set of eyes, something that a remote person can't alert you to."
(来源:Yahoo! News 英语点津 Helen 编辑)
我要了解更多趣味百科知识