你可能会在一些餐厅发现门把上挂着几袋水,这可不是调节室温的新奇创意,而是驱赶苍蝇的新方法!俗语说:"An apple a day keeps a doctor away." (一天一苹果,医生远离我)。可一袋水就能让我们远离苍蝇的烦扰吗?下文就将为您揭开这一迷题。
Perhaps you've visited a restaurant and seen clear, water-filled bags hanging on the doors or cinched up in the outdoor dining area. You might ask, "What's all this about? Some crazy new way to control temperature? A scheme to save money on waterpitchers?"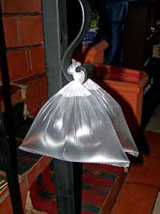 While any effect on temperature is purely accidental, these hanging bags are all about driving pests away. People hang these bags outside their homes, businesses and even in their barns to drive flies away.
Various takes on the water-bag practice exist. Some advocates insist the bag must have flakes of floating tin foil; others say a single penny. A couple of industrious Web sites even offer commercial takes on the concept, selling specially designed water bags to be used as repellents.
The water bag method of fly repellant has many supporters, from restaurant owners to backyard grill-masters. So how does the method drive flies away? Some insist the flies perceive the clear liquid as the surface of a body of water. Others claim the insect flys away at the sight of its own magnified reflection. But the most popular reasoning that pops up among entomologists and patent-filing entrepreneurs is simple light refraction.
Refraction takes place when a clear or opaque object, such as a piece of glass or a bag of water, alters the course and velocity of light. The rays of light, which normally travel in a straight line, bend. This effect is responsible for a number of optical illusions, such as mirages, that occasionally baffle humans as well.
In theory, refraction can be just as confusing for some species of insect, especially the house-fly. It boasts a highly sensitive pair of compound eyes which allow it to see in multiple directions at once.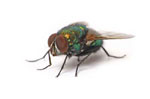 The insect's head mostly consists of a pair of large complex eyes, each of which is composed of 3,000 to 6,000 simple eyes. These eyes can't move or focus on objects like human eyes, but they provide the fly with a mosaic view of the world around them. Each simple eye provides one small piece of the puzzle, much like the way a screen's pixel delivers one detail of the larger picture.
A housefly bases its sense of direction on the direction sunlight comes from. Some entomologists believe that when these complex, sensitive eyes experience refracted light, the insect becomes confused and flies away.
There are plenty of people who don't think water bags can repel flies. Critics often classify this theory in the realm of old wives' tales and modern superstition. They chalk success stories up to confusion between correlation and causation. So do bags of water lower the number of houseflies around homes and restaurants? There are reasonable explanations that argue yes and significant evidence that proves no. Regardless, you can still find water bags hanging near restaurant patios and backyard porches across the globe.
cinch:系牢
pitcher:水罐
tin foil:锡纸,保鲜纸
light refraction:光的折射
velocity of light:光速
mirage:海市蜃楼
(英语点津 檀杰 编辑)
我要了解更多趣味百科知识