茶,早已成为一种文化存在于我们的历史中。无论是老人还是年轻人,都对茶有着独特的钟爱。花茶、普洱……一些茶甚至成为了养生 "妙药"。那么,为什么喝茶有益身体健康呢?让我们一起来看一看下面的文章吧。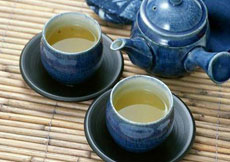 Recent research findings about the health benefits of tea shouldn't be surprising. A single tea leaf contains a wide variety of substances. The two substances receiving the most attention in tea, however, are antioxidants and caffeine.
Antioxidants
We learned about oxidation a few sections ago. Just like tea leaves, apples and car hoods, humans are susceptible to oxidation. Oxygen molecules create stress on our tissues and organs by introducing harmful free radicals that lead to complications such as cancer and heart disease. Free radicals are charged atoms or molecules. They have to steal an electron from the molecules.
Antioxidants are substances that slow down the damaging effects of oxidation, and they are found naturally in fruits and vegetables. Once they are introduced into the body, antioxidants neutralize free radicals by giving up an electron. The antioxidant is harmless, because it is stable with or without its extra electron. Examples of powerful antioxidants are vitamin C, vitamin E and beta-carotene.
Tea contains a wide range of antioxidants. Scientists haven't agreed yet on the effectiveness of these substances, but the general consensus points toward polyphenolic compounds (多酚化合物) as the most abundant and helpful source of antioxidants in tea. Several kinds of polyphenols known as catechins (儿茶酚,儿茶酸), are common in green tea and considered to provide the best protection from oxidation. Black tea offers strong antioxidants, too, but the polyphenols have different structures and are not quite as effective. The reason for this goes back once again to the different ways to process tea -- the catechins that stay in green tea transform into theaflavin (茶黄素) and thearubigin (茶红素) in black teas.
Caffeine
Like coffee, tea contains caffeine, the stimulant that wakes us up and increases concentration. The amount of caffeine in a cup of tea varies greatly -- everything from location to processing decisions affects the outcome -- but most agree that there's more caffeine in coffee than in tea. A standard cup of coffee contains anywhere from 80 to 120 milligrams (mg) of caffeine, while a cup of tea can have between 20 and 60 mg of caffeine. Most reports note that black tea is the strongest, containing about 30 to 40 mg. Green tea and oolong tea contain less, somewhere between 10 and 20 mg. White tea is thought to contain almost a negligible amount of caffeine, about 1 percent of the caffeine in a cup of coffee.
(来源:howstuffwords.com 实习生朱一枫 英语点津 Annabel 编辑)
我要了解更多趣味百科知识