"朝九晚五"似乎成了上班族固定的工作模式,早上一大早坐车来到办公室,电脑前整整坐一天,下午五点钟再坐车回家,然后喊着"累啊累啊"就往沙发上躺……日复一日,身体素质肯定要下降。为了迎合我们全民奥运的理念,办公室的兄弟姐妹们,让我们动起来吧!
Many people always feel soreness of waist, backache and ache of the eyes while sitting too long in the office that will hinder your productivity. How to eliminate tiredness to keep cheerful and happy in your work time? So let's take exercises in the office!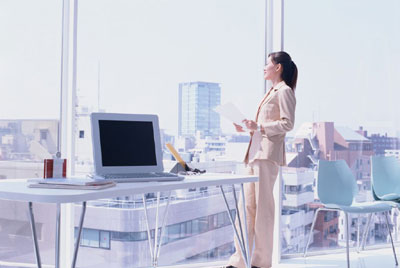 Cross and bend over movement
a. Stand upright with one foot taking half step, and bend your front leg, keep straight with your hind leg just like on the starting line.
b. Keep your upper body forward, and your hands must touch the toes. Return to your original pose slightly after staying 5 seconds of this movement, and then practice it with another foot.
This movement has excellent effect for protecting ache of waist for the reason of muscle contraction of your joint.
Push wall movement
a. Separate your feet with one foot forward and the other backward; bend your forelegs with your hands touching the walls.
b. Unbend your hind legs, let your sole keep close to the floor and push the wall like doing push-ups.
This movement can stretch atrophic muscle of your legs and make your waist stronger.
Bend over movement
a. Sit on the chair with feet separated and hands crossed.
b. Coordinate with breathe, bend forward your upper body slightly and keep your head between your legs.
While doing this movement, you'd better not too hard to your waist and ridgepole. It is very effective to strength your muscle of ridgepole.
(来源:Huaihai Family  实习生 屈上 英语点津 Annabel 编辑)