导演:罗布•祖姆比 Rob Zombie
主演:马尔科姆•麦克道威尔 Malcolm McDowell、布拉德•道里夫 Brad Dourif、达格•费奇Daeg Faerch、泰勒•曼恩Tyler Mane
类型:恐怖
上映日期:2007年8月31日(美国)
剧情简介
很多人心中都有黑暗的一面,却很少有人像他这样纯粹的邪恶……
1978年,美国,伊利诺斯州,Haddonfield。
一个生来心中就充满了邪恶与仇恨的男孩麦克•麦尔斯终于在他10岁那年露出了他狰狞的恶魔脸孔。在那年万圣节的夜晚,他残忍的用棒球棒将母亲的男朋友一棍一棍的锤成了肉泥,然后又将自己的姐姐肢解的支离破碎……警方将这个心灵扭曲的少年送到了疗养所进行看管。
在那里,一个名叫萨米尔•鲁米斯的医生负责调教这个他。萨米尔•鲁米斯想尽办法接近这个少年的心灵,试图去影响、改变这个疯狂的少年,但他所有的尝试都以失败而告终。麦克•麦尔斯是一个顽固的邪恶载体,没有人性,没有理智,有的只有日益强悍的身体和越来越强烈的残虐杀戮本质——萨米尔•鲁米斯最后意识到了这点,但那时已经太晚了。在被关押17年后,麦克•麦尔斯终于找到机会逃出了逼仄的牢笼。压抑已久的仇复心终于得以释放,他迫不及待的回到Haddonfield,去寻找他唯一真正爱护过的妹妹洛丽。
只有萨米尔•鲁米斯知道他的目的所在,也只有萨米尔•鲁米斯知道,任何不幸遭遇麦克•麦尔斯的人都将以最惨痛的方式付出生命的代价。他要去警告那的人们,保护洛丽,并尽力抓回麦克•麦尔斯。作为医生的职业道德和作为普通公民的良知让他踏上了这条与人间恶魔的死亡角逐。
推荐理由
累计9部、长达27年历史的《万圣节》系列,无疑是恐怖片家族中的一位血腥元老。心理畸形的迈克尔举刀屠宰无辜民众的时候,竖锯先生恐怕还在襁褓中撒娇、人皮客栈估计仍是一片未开垦的处女地,惟有"板斧"杰森、"梦魔"弗莱迪能与之一较长短——总之,几位被妖魔化的杀人狂前辈早有热卖全美的辉煌历史在前。也许是不爽《电锯惊魂》连蒙带骗出到了第四部,迈克尔再度披挂上阵。有摇滚界出身的罗伯导演掌勺,相信垂老的《万圣节》定能焕发另类青春——顺便说一句,谁会变态到给自己改姓"僵尸"(Zombie)啊!?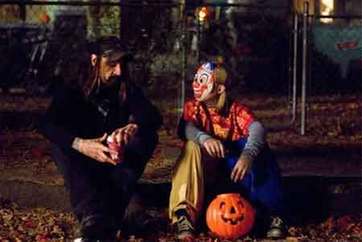 Plot summary
Halloween is a 2007 American horror film written, directed, and produced by Rob Zombie. The film is a remake/reimagining of the 1978 horror film of the same name, and the ninth film in the Halloween film series. The film stars Malcolm McDowell as Dr. Sam Loomis, Tyler Mane as the adult Michael Myers, and Scout Taylor-Compton as Laurie Strode; Daeg Faerch portrays a ten year old Michael Myers. Rob Zombie's "reimagining" follows the premise of John Carpenter's original, with Michael Myers stalking Laurie Strode and her friends on Halloween night. Zombie's film goes deeper into the character's psyche, trying to answer the question of what drove him to kill people, whereas in Carpenter's original film Michael did not have an explicit reason for killing.
Working from Carpenter's advice to "make [the film] his own",Zombie chose to develop the film as both a prequel and a remake, allowing for more original content than simply refilming the same scenes. Despite mostly negative reviews, the film, which cost $15 million to make,[1] went on to gross $80,208,039 worldwide.
On Halloween in Haddonfield, Illinois, having already shown signs of psychopathic tendencies, ten year old Michael Myers (Daeg Faerch) murders his sister Judith (Hanna R. Hall), her boyfriend Steve (Adam Weisman), his mother's boyfriend Ronnie (William Forsythe), and a school bully named Wesley (Daryl Sabara). After one of the longest trials in the state's history, Michael is found guilty of first degree murder and sent to Smith's Grove - Warren County Sanitarium under the care of child psychologist Dr. Sam Loomis (Malcolm McDowell).
Michael initially cooperates with Dr. Loomis, claiming no memory of the killings; his mother, Deborah (Sheri Moon Zombie), visits him regularly. After a year, Michael becomes fixated on his papier-mâché masks, closing himself off from everyone, even his mother. When Michael kills a nurse (Sybil Danning) during one of her visits, Deborah can no longer handle the situation and commits suicide. For the next fifteen years, Michael (Tyler Mane) continues making his masks and not speaking to anyone. Dr. Loomis, having continued to treat Michael over the years, attempts to move on with his life and closes Michael's case. Later, while being prepared for transfer to maximum security, Michael escapes Smith's Grove, killing the sanitarium employees and a truck driver (Ken Foree) for his clothes, and heads to Haddonfield. On Halloween, Michael arrives at his old home, now abandoned, and finds a kitchen knife and Halloween mask he stored under the floorboards the night he killed his sister.
The story shifts to Laurie Strode (Scout Taylor-Compton), and her friends Annie Brackett (Danielle Harris) and Lynda Van Der Klok (Kristina Klebe) on Halloween. Throughout the day, Laurie witnesses Michael watching her from a distance. That night, she heads to the Doyle residence to watch their son Tommy (Skyler Gisondo). Meanwhile, Lynda meets with her boyfriend Bob (Nick Mennell) at Michael's childhood home. Michael appears, murders them, and then heads to the Strode home, where he murders Laurie's parents, Mason (Pat Skipper) and Cynthia (Dee Wallace). Having been alerted to Michael's escape, Dr. Loomis comes to Haddonfield looking for Michael. After obtaining a handgun, Loomis attempts to warn Sheriff Brackett (Brad Dourif) that Michael has returned to Haddonfield. Brackett and Dr. Loomis head to the Strode home, with Brackett explaining along the way that Laurie is actually Michael Myers' baby sister.
Meanwhile, Annie convinces Laurie to babysit Lindsey Wallace (Jenny Gregg Stewart), a girl Annie is supposed to be watching, long enough so she can have sex with her boyfriend Paul (Max Van Ville). Annie and Paul return to the Wallace home; during sex, Michael kills Paul and attacks Annie. Bringing Lindsey home, Laurie finds Annie on the floor, bloodied but alive, and calls 911. She is attacked by Michael, who chases her back to the Doyle home. Sheriff Brackett and Loomis hear the 911 call and head to the Wallace residence. Michael kidnaps Laurie, and takes her back to his home. Michael approaches Laurie and tries to show her that she is his younger sister. Unable to understand, Laurie grabs Michael's knife and stabs him before escaping the house; Michael chases her, but is repeatedly shot by Dr. Loomis. Laurie and Loomis are just about to leave when Michael grabs Laurie and heads back to the house. Loomis intervenes, but Michael attacks him by squeezing Loomis's skull with his hands. Laurie takes Loomis' gun and runs upstairs; she is chased by Michael, who, after cornering her on a balcony, charges her head-on and knocks both of them over the railing. Laurie finds herself on top of a bleeding Michael. Aiming Loomis' gun at his face, she repeatedly pulls the trigger until the gun finally goes off just as Michael's hand grips Laurie's wrist.
(Source: wikipedia.org,英语点津 Julie编辑)