Shakira wins 4 Latin Grammy Awards
[ 2006-11-03 16:36 ]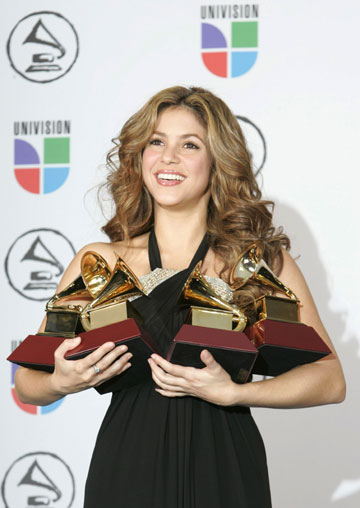 Singer Shakira poses backstage with the four Grammys she won at the 7th annual Latin Grammy Awards in New York, November 2, 2006. (Reuters)
Shakira dominated the Latin Grammy awards as she won a leading four trophies, including album of the year for "Fijacion Oral Vol. 1" and song and record of the year honors for "La Tortura," her smoldering duet with Alejandro Sanz, on Thursday night. Her album also picked up another award for its engineers.
Cerati won best rock song for "Crimen" and best rock vocal album for "Ahi vamos."
Calle 13 picked up awards for best new artist, best music album, and also won best short music video Grammy for its reggaeton song "Atrevete te, te!"
Other winners included Mexican singer/accordion player Julieta Venegas, who was nominated for four awards. She won best alternative album for "Limon y sal" in the pre-televised awards ceremony. (AP)