纽约州州长斯皮策因卷入召妓丑闻于3月12日正式宣布辞职,其不到十五个月的州长生涯就此划上句号。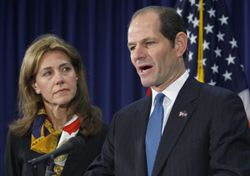 New York Governor Eliot Spitzer (R) stands next to his wife Silda Wall Spitzer as he announces his resignation at his office in New York March 12, 2008. [Agencies]
Governor Eliot Spitzer, mired in allegations he was a client of a high-priced prostitution ring, resigned from office yesterday, saying "I cannot allow my private failings to disrupt the people's work".
Spitzer will be replaced by Lieutenant Governor David Paterson, who becomes New York's first black governor, effective on Monday. Spitzer's minute-long statement made no mention of whether he had reached a deal with federal prosecutors to avoid charges.
"I go forward with the belief as others have said that as human beings our greatest glory consists not in never falling but in rising every time we fall," Spitzer said at a Manhattan news conference.
The scandal erupted on Monday when allegations surfaced that Spitzer, a 48-year-old married man with three teenage daughters, had been caught on a wiretap spending $4,300 with the Emperors Club VIP call-girl service, with some of the money going toward a night with a prostitute named Kristen, and the rest to be used as credit toward future trysts.
Speaking on condition of anonymity, a law enforcement official said on Tuesday that Spitzer, in fact, had spent tens of thousands of dollars with the Emperors Club. Another official said the amount could be as high as $80,000. But it was not clear over what period of time that was spent.
Spitzer's vast personal wealth would have made it easy for him to spend thousands of dollars on prostitutes. The scion of a wealthy Manhattan real estate developer, Spitzer reported $1.9 million in income in 2006.
(China Daily/Agencies)
Vocabulary:
call-girl service: 卖淫服务
(英语点津Celene编辑)