比阿特丽斯公主是英国女王伊丽莎白二世的孙女、安德鲁王子和前妻约克公爵夫人莎拉•弗格森的长女,在英国王位继承人顺序中排名第5,被誉为"世界上最美丽的未嫁公主"。日前英国媒体报道,19岁的小公主身为金枝玉叶竟然在一家百货公司里打工。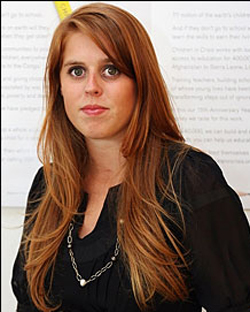 Princess Beatrice will work at the store until the end of May.[Agencies]
Princess Beatrice is working as a personal shopper in Selfridges as part of her gap year, it has emerged.
The 19-year-old daughter of Prince Andrew will spend the rest of the month working for free in the upmarket London department store.
It is her job to answer the beck and call of wealthy customers who book sessions in advance and the fifth in line to the throne has been seen ferrying clothes and items around the shop.
Princess Beatrice, who was described as a "natural", is working at Selfridges as part of her gap year before going to university.
Dressed in a black dress and a wide black belt with her long red her flowing loose, the Princess looked at ease and happy as she strolled between floors.
One onlooker, who spotted her while at lunch, said: "She was wandering around the Prada section with a young dark-haired girl in her late teens or early 20s.
"She looked quite confident, she was happy and relaxed - definitely a natural."
Last month she was pictured on the island of St Barts in the Caribbean on holiday with her American boyfriend Dave Clark.
She has also reportedly traveled to Argentina, Brazil, Spain, Belgium and Switzerland, as well America since leaving St George's School in Ascot, Berkshire, last year.
Her cousin Prince William worked on a farm in the UK during his gap year and spent time in Chile as a volunteer for charity Raleigh International, while Prince Harry worked on a ranch in Queensland, Australia for three months and traveled in South Africa.
The Prince went to Lesotho to visit an orphanage for children suffering from Aids.
(Agencies)
(英语点津Celene编辑)