受金融危机和投资失利双重打击,德国排名第五的亿万富翁、74岁的阿道夫•默克勒5日自杀身亡。默克勒的家族控制着德国最有名的几个大公司,目前约有10万名员工为默克勒家族效力。2008年,默克勒在《福布斯》世界富翁榜单上名列第94位,资产总额约为92亿美元。2008年,默克勒做空大众汽车普通股成为其衰败的一个重要原因。与此同时,金融危机带来的公司市值缩水、所持股票价值下跌和债务日益增多更让默克勒喘不过气来。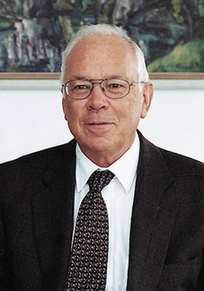 German billionaire Adolf Merckle, pictured in this undated handout photo, has killed himself, his family said on January 6, 2009. [Agencies]
In killing himself German billionaire Adolf Merckle has become the latest casualty of the global financial crisis, his family saying on Tuesday he was broken by the struggle to salvage their business empire.
Merckle, who was the world's 94th-richest person in 2008 according to Forbes magazine, spent his life building a business conglomerate with about 100,000 employees.
The empire was poised to come crashing down after his family made wrong-way bets on skyrocketing Volkswagen shares.
The family has been under pressure to sell some assets or seek bridging loans and has been in talks with banks for weeks.
"The desperate situation of his companies caused by the financial crisis, the uncertainties of the last few weeks and his powerlessness to act, have broken the passionate family entrepreneur and he took his own life," a family statement said.
The 74-year-old industrialist died when a train struck him late on Monday, said prosecutors in the southern German town of Ulm, near Merckle's home.
Little was publicly known about the father-of-four, who lived in the southwest German state of Baden-Wuerttemberg and was said to enjoy skiing and mountain-climbing.
He received the German Federal Cross of Merit in 2005 for his achievements in fostering economic growth in the state of Baden-Wuerttemberg.
Market players said Merckle liked to keep a low profile and had seemed like a conservative investor.
Yet he became the most well-known victim of a share market squeeze which briefly made carmaker Volkswagen the world's most valuable company late in October.
Its share price rocketed to just over 1,000 euros from 210 euros in two trading sessions after rival Porsche made a surprise stakeholding announcement that sent short sellers of VW shares running for cover.
"He had a reputation for being very, very prudent, very cautious -- a typical entrepreneur who always remained down-to-earth. So it was a huge surprise," said an analyst who asked not to be named.
At the time there was mostly speculation about banks and hedge funds that could have made heavy losses on VW. But banking sources told Reuters that Merckle's losses were estimated at 400 million euros ($539 million).
STRUGGLE TO SAVE EMPIRE
A lawyer by education, Merckle held talks on state guarantees with German regional government of Baden-Wuerttemberg, although he ultimately opted out of such backing and sought to seek bridging loans from banks.
The prospect of a rich individual seeking state backing, with taxpayers' money, for losses caused by perceived reckless speculation sparked controversy in Germany.
"The billionaire with empty pockets" read a headline at Suedeutsche newspaper. "Will Merckle, the gambler of billions, be saved by the state?" asked Suedkurier.
The losses fuelled speculation that the industrialist could sell generic drug company Ratiopharm or part of his stake in HeidelbergCement -- both of which are based in Baden-Wuerttemberg.
Ratiopharm and HeidelbergCement are just two companies in the vast portfolio of the Merckle family, which also includes a maker of grooming vehicles for ski slopes, a sugar refinery and one of Germany's oldest foundries.
The whole portfolio generates around 30 billion euros in annual sales.
"Adolf Merckle collects companies like others collect watches," wrote Manager Magazin in one of the few extensive portraits of the German billionaire. "Hardly a single other German corporate dynasty acts in such unpredictable and relentless way as the Merckle clan from Blaubeuren."
Forbes recently ranked Merckle Germany's fifth-richest man with a fortune worth an estimated $9.2 billion. According to Forbes, Merckle's fortune was initially inherited from his Bohemian grandfather, but he had grown the latter's chemical wholesale company into Germany's largest drugs wholesaler, Phoenix Pharmahandel, with annual sales of 21.6 billion euros.
(Agencies)
Vocabulary:
bridging loans: 过渡性贷款
(英语点津 Helen 编辑)