经济寒潮尚在继续,强冷空气又猛烈来袭。如此寒冷的境遇使得不少中国人都希望到温暖些的地方去过春节。过年回家团聚、一起放鞭炮等传统节目不再是一些人向往的过节方式, 春节出境游在近几年逐渐受到人们追捧。曾经是中国人冬季出游首选的泰国因为2008年底的国内骚乱让不少游客改变了游泰计划,取而代之的是越南和柬埔寨两个同样温暖的东南亚国家。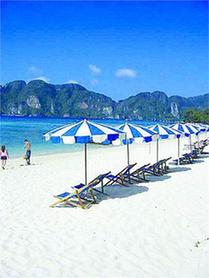 For some Chinese, the cold front that moved across northern and central China on Friday strengthened the desire to go somewhere warm.
China's bitter winter cold and economic chill have not frozen a newly popular way for Chinese to celebrate the Lunar New Year -- they're going abroad, rather than returning to hometowns to visit their families.
For some, the cold front that moved across northern and central China on Friday strengthened the desire to go somewhere warm, with Vietnam and Cambodia benefitting from Chinese fears that unrest in December has made Thailand unsafe.
The Year of the Ox begins on Monday, and is traditionally a time for Chinese to gather with families and set off fireworks.
In recent years, some prosperous Chinese have chosen an exotic holiday abroad instead, a trend that has slowed down, but not been stopped by the global economic slowdown.
"I was looking for a warm place, but in China there's only Hainan island and it's too expensive. So I chose Southeast Asia," said Jenny Jing, a consultant in Shanghai.
"Originally I was not considering Thailand because I'd already been and because I'm concerned about safety. But now Vietnam and Cambodia are so popular they've gotten expensive so Thailand is back as my Plan B."
Thailand was one of the first countries to open to Chinese tourists, about a decade ago, but reports of protesters shutting down Bangkok's airport in December has deterred some would-be travellers.
For many Chinese professionals, the New Year's holiday is one of the few times in the year they are guaranteed a week off. That encourages them to head further a field.
Sun Wei, a lawyer in Beijing, is spending her first New Year abroad with friends in Cambodia. She said she visits her parents often enough that they won't miss her during the holiday.
"We might eat some dumplings to celebrate New Year's Eve. We'll see if we can find them there or not," she said.
But the gathering financial chill in China has slowed the growth rate of overseas travelers, as pay reductions and a business slowdown has cut into disposable incomes. The number of visa applications for travel to Australia, for instance, is about the same as last year, even through the drop in the Australian dollar makes the country a lot cheaper for Chinese.
"This year, relatively few Chinese are going overseas. They are not getting as many year-end bonuses as usual. I imagine big companies are controlling costs," said Yang Shuxian, a travel agent in Beijing.
"I'm mostly hearing about Vietnam or Malaysia. No one wants to go to Thailand because of the reports of political unrest."
(Agencies)
(英语点津 Helen 编辑)