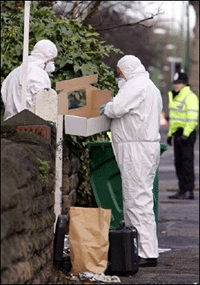 Forensic officers examine a crime scene in Nottingham.
The English city famous for the legendary outlaw Robin Hood was named and shamed as Britain's most burglary-prone city by an insurer, adding to its woes as a centre for gun crime.

Residents in Nottingham were more than twice as likely to claim for household theft than insurer Endsleigh's national average.
The city, which has a statue of Robin Hood with bow and arrow, appointed a "reputation manager" last year to counter the growing perception that the city was now being blighted by outlaw gangs with more up-to-date hardware.
Police and councillors in Nottingham have been working to dispel its gun-ridden image, which once led to it being dubbed "Assassination City".
Hull and Leeds in northern England came out as the next worst for burglaries, while Guildford in southeast England came out as the safest, followed by Coventry, west central England, and the Scottish capital Edinburgh.

(Agencies)
向来以传奇侠盗罗宾汉而著名的英国城市诺丁汉如今却因被一家保险公司评为英国室内盗窃案最猖獗的城市而蒙羞。此前,该市已很不幸地成为枪案高发区。

诺丁汉居民因室内盗窃而提出保险赔偿的机率是Endsleigh保险公司全国平均水平的两倍之多。

手持弓箭的罗宾汉雕像就位于诺丁汉市,但人们却感觉到这座城市正日益受到装备先进的不法分子的破坏。为了改变这种状况,诺丁汉市去年任命了一位"名誉经理"。

诺丁汉市枪支泛滥,曾经因此被称为"暗杀之城",该市的警察和议员们正在努力消除这种形象。

英国北部城市赫尔和利兹紧随诺丁汉,是室内盗窃案易发的第二、第三大城市;而位于英国东南部的吉尔福德则被誉为最安全的城市,排在其后的安全城市分别是英国中西部城市考文垂和苏格兰首府爱丁堡。




(中国日报网站编译)