读者佳作: Wait till you hear from me
[ 2006-08-30 18:21 ]
本期撰稿人:张英
浙江商业职业技术学院经贸系商务英语专业大二学生。高中时开始喜欢听欧美歌曲,也喜欢唱英文歌,平常没事就在各网站找好听的音乐,然后推荐给同学,这是我的乐趣之一。这次非常感谢本栏目编辑对我的稿件的细心修改,在这过程中受益匪浅,不仅学到了一些有关毒品的俚语表达,而且在翻译歌词的过程中也体会到了学习英语的乐趣。

英语论坛 Easy English:"流行金曲"大家评(五)



有关"毒品"的俚语表达:speed:速度?weed:杂草?哦,千万不敢这样认为!终于明白:听歌学单词,没错!



我听之我见: 这是一首反毒品歌曲,歌曲从一开始就表明这是为情同姐妹的好友而唱,那个女孩因为染上了毒瘾无法自拔,从而断送了大好的性命。我想这首歌不仅仅是表达歌手对Maria的思念,同时也告戒世人:珍惜生命,远离毒品!



Lyrics

Wait till you hear from me by Sarah Connor


Intro
This song is about Maria
A close friend of mine
Who lost herself in drugs
She told me to wait for her
But guess what...
She never came back
And I'm still waiting
She told me

Chorus
Wait 'til you hear from me
Monday, Tuesday it won't be
Wednesday, Thursday we will see
If only you can wait baby

Wait 'til you hear from me
Friday use your fantasy
Saturday you got over me
If only you can wait baby

Verse 1
She was called Maria and she really was a friend
I remember when we were walking hand in hand
She was telling me that she understands
All the world and every thrill by taking little pills

So she was trying everything and more
Alcohol and speed, coke and weed and tried to score

Tragedy: she didn't feel much better than before
So she got away here quick to find a better kick
Bridge
Never let it, wanna find her
Can't forget it to remind her
She's my sister, wanna tell her
How I miss her, she told me
Chorus
B-chorus
Wait, don't call you've got to
Wait 'til you hear from me
Wait, that's all you've got to
Wait...
Verse 2
When she arrived in the city of the stars
Blinded by the lights, a burning in the heart
She believed to play what she called her part
A member of society to satisfy her dreams
No one paid attention on her skills
So she found crack is another way to fill
The emptiness inside right now she got her thrill
Guess, who gave his life away? She did it every day
Bridge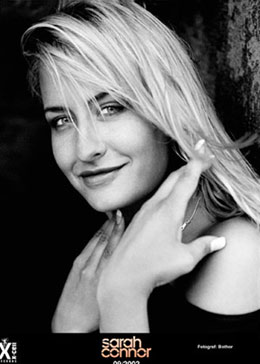 Never let it, wanna find her
Can't forget it to remind her
She's my sister, wanna tell her
How I miss her, she told me

Chorus
Narration part:
Why did she throw her life away?
Why did she say don't call just wait?
C-part:
If you wanna go to the city of stars
Can you help me to find my girl Maria
She once was an actress and a beauty queen
Then the drugs took over and made her mean
I tried to stand by her side make her feel alright
But she wished to get over to the other side
And since I can't really get her out of my mind
I'm asking you, won't you help me to find
She told me
Chorus
B-chorus