姚明遭遇黑色圣诞 右膝骨裂将缺战六周
[ 2006-12-25 09:38 ]
| | |
| --- | --- |
| 对于火箭而言,这不是一个好圣诞节。圣诞前夕,火箭在主场负于快船,输球事小,但是姚明因为右膝胫骨骨裂将至少缺席六周,这让火箭遭遇巨大打击。姚明职业生涯前三个赛季仅仅缺阵两场,但是上赛季因右脚脚趾感染缺阵21场,赛季末又因为骨折缺席最后4场。上赛季他场均22.3分,在全联盟的中锋中高居榜首。本场比赛前他场均得到26.8分和9.7个篮板,那是NBA最有价值球员的水准。 | |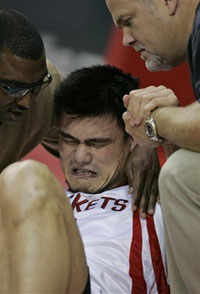 Houston Rockets' Yao Ming (11), of China, reacts as eam physician Dr. Mark Adickes, right, and trainer Keith Jones, left, attend to him during the first quarter of their NBA basketball game against the Los Angeles Clippers Saturday, Dec. 23, 2006, in Houston. Yao had to leave the game with a bruised right knee.[AP]
Yao Ming will miss at least six weeks after fracturing the bone under his right knee in Houston's game against the Los Angeles Clippers on Saturday night.
Yao was leaping for a blocked shot as Chuck Hayes and Tim Thomas hit the floor beneath him. Yao's knee appeared to get caught under Thomas' body and Yao immediately grabbed his knee and screamed in pain.
Yao was taken to Memorial Hermann Hospital in Houston, where an MRI test revealed a fracture on Yao's right tibial plateau, trainer Keith Jones said.
The Rockets initially said Yao had only suffered a bone bruise. Now, Jones said he hopes the injury will not require surgery.
"It's a non-displaced fracture, so nothing is way out of the way or out of whack," Jones said. "We think he'll do well with just rest. An option would be to do something more, but we're hoping that won't need to be done."
Without Yao, the Rockets lost to the Clippers 98-93.
The injury ruins the best start of Yao's career. He was averaging 27 points and nine rebounds and had topped 30 points in four consecutive games before scoring 22 in Friday's 97-78 victory at San Antonio.
The Rockets were already playing without six-time All-Star Tracy McGrady, who sat out for the seventh straight game with back spasms.
The 7-foot-6, 310-pound Yao now faces rehabilitation for the third time in a year. Last December, he underwent surgery for a toe infection and missed 21 games. Last April, he broke his left foot in Utah and missed the final four games of the season.
(Agencies)

Vocabulary:

fracture the bone: 骨裂

right tibial plateau:右膝胫骨

non-displaced fracture:(右胫骨)非移位骨裂

(英语点津陈蓓编辑)