希拉里出击2008总统大选 誓言重塑美国
[ 2007-01-22 10:04 ]
| | |
| --- | --- |
| 古罗马凯撒大帝横扫法国时曾经豪情万丈地说"我来了,我看见了,我征服了",而美国前第一夫人希拉里1月20日则以一句"我来了,我要赢",立下要成为美国第一位女总统的誓言。这位女强人最终还是如人们一直猜测的那样,开始向总统宝座发出冲击。希拉里表示,在未来两年内,她将竭尽全力去限制现任总统布什对美国可能造成的损害,恢复美国人民的希望和乐观主义,及美国在世界上受人尊敬的领导地位。此外,在民主党内,希拉里最大对手是黑人参议员奥巴马,他的参选可能使其成为美国有史以来第一位黑人总统。 | |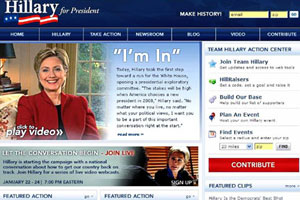 U.S. Senator Hillary Rodham Clinton (D-NY) is pictured on the home page of her presidential campaign's website, in this screen grab released on January 20, 2007. Clinton said on Saturday she planned to form an exploratory committee for the 2008 presidential race, the first step toward becoming a candidate for her party's nomination. Clinton said she would be launching a series of live, online video conversations with voters, beginning on Monday. [Reuters]
Declaring "I'm in to win," Democratic Senator Hillary Clinton launched her 2008 presidential bid that could make her the first female president of the United States.

Clinton, the wife of former president Bill Clinton, lashed out at President George W. Bush in a video on her website as she ended years of speculation over her political ambitions to declare she was joining the race.
"I'm in. And I'm in to win," she said in a video on her website.
"As a senator, I will spend two years doing everything in my power to limit the damage George W. Bush can do. But only a new president will be able to undo Bush's mistakes and restore our hope and optimism," said Clinton, 59.
Clinton, just beginning her second term representing New York in the Senate, announced she was taking the key first official step for the race for her party's nomination and the White House with the formation of a campaign exploratory committee.
She joins a field of six other Democrats who have taken initial steps toward vying for their party's nomination to run for president in 2008, including Barack Obama (news, bio, voting record), an Illinois senator hoping to be the first black president.
Clinton's announcement closed speculation dating back to her first run for Senate in 2000 that she was keen to move back into the White House and replace Bush, who is serving a second and last four-year term.
"Only a new president can renew the promise of America - the idea that if you work hard, you can count on the health care, education and retirement security that you need to raise your family. These are the basic values of America that are under attack from this administration every day," Clinton said Saturday.
An Illinois-bred corporate lawyer who attended prestigious Yale Law School, Clinton put Americans on notice early in her husband's 1992 presidential campaign that she was "not the kind of woman who stays at home baking cookies."
But Republican conservatives bristled at the idea that in electing Bill Clinton as president, voters were also getting the cerebral Hillary in a great two-for-one bargain.
Her official announcement that she is setting up an exploratory committee launches what will likely prove one of the most-watched primary battles in decades, between two would-be "firsts" -- potentially the first female and the first African-American US president.
In a new poll released Saturday, Clinton held a wide lead over Obama for their party's nomination.
Clinton outpaced Obama - who joined the race Tuesday - 41 percent to 17 percent in the poll by ABC News and The Washington Post. The survey was taken January 16-19.
On the Republican side, seven presidential hopefuls have taken steps toward contesting their own party's nomination.
Obama, who announced he was setting up an exploratory committee on Tuesday, said he will announce his final decision about running on February 10 in Illinois after touring the country.
He said Saturday: "Senator Clinton is a good friend and a colleague whom I greatly respect. I welcome her and all the candidates, not as competitors, but as allies in the work of getting our country back on track."
Clinton, too, underscored the need to steer the country in a different direction.
"This is a big election with some very big questions. How do we bring the war in Iraq to the right end? How can we make sure every American has access to adequate health care? How will we ensure our children inherit a clean environment and energy independence? How can we reduce the deficits that threaten Social Security and Medicare?" she asked.

| | | |
| --- | --- | --- |
| 1 | 2 | |