牙齿是由什么组成的?
[ 2007-03-21 12:37 ]
先来回答一个问题:人身上最硬的部位是什么?是牙齿。正因有有了坚硬的牙齿,我们才能吃到各种美味。那么,牙齿是由什么组成的、才会这么坚硬呢?且看下文分解。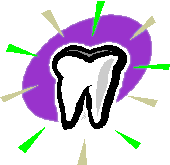 Teeth have to be very hard to withstand all the chewing and crunching of food. The hard material of the tooth is composed of calcium, phosphorus, and other mineral salts. The material in the majority of the tooth is called dentine. The hard, shiny layer that you brush is called the enamel.
Teeth have two basic parts, a root to anchor the tooth to the jaw and a crown above the gum line. The root is covered with a hard material called cementum. At the center of each tooth is an area with nerves, arteries and veins called the dental pulp.
Humans have four different types of teeth, each with a different function:
Incisors for cutting off bites of food.
Cuspids (sometimes called canines because of their long sharp points) for tearing food
Bicuspids (with two points) to tear and crush food
Molars with large relatively flat surfaces to crush and grind food.
Our four different types of teeth together are called collective dentition and they allow humans to be omnivores (eating both meat and vegetables). Most animals have more specialized teeth. Carnivorous (meat eating) animals have long sharp tearing teeth (like our incisors and cuspids). Grazing animals, like cows and horses have large flat teeth (like our molars) for grinding grass and other vegetation.
dentine: 牙本质
enamel: 珐琅质
gum: 牙龈
cementum: 牙骨质
dental pulp: 牙髓
incisor: 门牙
cuspid: 犬牙
bicuspid: 臼齿 (with two points)
molar: 臼齿 (with large relatively flat surfaces)
(来源:coolquiz.com 英语点津 Annabel 编辑)