国内首家模拟成人世界的"儿童城"将于2008年10月在杭州开放。"儿童城"针对5至10岁的孩子,内设街道、医院、超市、学校、机场等设施,提供包括飞行员、医生、警察、法官在内的50多种职业。孩子在"儿童城"里可以体验各种社会角色,从而了解成年人的生活,为今后的职业发展打下基础。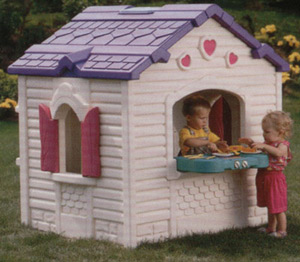 Children are playing house.
Chinese children will be able to get a taste of adult working life in a theme park planned for Hangzhou City, East China's Zhejiang Province.
The Kids City, the first of its kind in China, will allow children aged five to 10 to try out jobs of their choice after it opens in October 2008.
Located in eastern Hangzhou, the indoor entertainment and education park, similar to "Kidzania" in Mexico and Japan, offers more than 50 professions, including pilot, doctor, police officer and lawyer, according to Hangzhou Youth Activity Center (HYAC), the organizer of the park.
The park will be 7:10 scale city with streets, hospitals, museums, supermarkets, schools, airports and other facilities.
Construction has begun on the indoor section.
Inside the 7,000-square-meter city, every kid would get a bank account holding special money that they can only spend in the park. They could earn more money by working in different booths or workshops. One job would take about half an hour and the whole tour would usually last five to six hours, according to HYAC.
"The interactive experience will help kids to learn about the adult life, which is good for their future career planning. They will have a lot of fun here," said Huang Jianming, chief of HYAC.
Parents are not allowed to enter the city or accompany their offspring, but they can take pictures from outside the huge glass house.
The ticket price has not been decided yet. But HYAC said it might be lower than Kidzania Tokyo's and around several hundred yuan.
With the majority of investment coming from the government, the project needs more funds from companies and organizations, according to HYAC.
The world's first Kidzania was opened in Mexico City in 1999. It has  turned out to be a huge success receiving about 800,000 visitors annually. In 2006, Kidzania opened its Tokyo park in Japan, which also became an attraction to kids.
"We are confident that the Chinese version will be very successful." said Huang.
(Xinhua)
(英语点津 Linda 编辑)